Nyaduoth Koat, 51, is a mother of four kids and a South Sudanese refugee living at the Jewi Refugee Camp in the Gambella Region in Western Ethiopia bordering South Sudan.
She left her hometown in South Sudan in 2015, due to an ongoing conflict that put the lives of her and her family in danger.
After coming to Ethiopia, she was settled in Jewi Refugee Camp and started to receive monthly rations from the World Food Programme (WFP).  Jewi Refugee camp, which is one of six refugee camps in Gambella, was established in 2015 and hosts a total more than 60,000 South Sudanese refugees – more than half being women.
Life in the Camp for Nyaduoth
As there are limited livelihood options for the South Sudanese refugees to get cash and cover their food gaps, usually women and girls collect firewood and wild food called "kudra" from the bush and sell to get some cash.
Five years ago, on one unfortunate day, Nyaduoth was collecting firewood as she slipped and fell. As a results Nyadouth broke her leg and has had to use a cane to walk ever since.
Producing stoves generates income
In 2021, Nyaduoth was targeted by DCA to be a beneficiary of a DANIDA funded project that supports beneficiaries to generate an income by producing energy efficient cooking stoves.
Nyaduoth was trained and learned how to produce the stoves – and with a strong spirit and hard work she can produce at least three stoves a day. Before long she started to earn a good income.
"I sell one stove for 80 Birr. With the profit I am making, I am now able to afford the food and clothing needs of my family. I have also bought two goats, and in addition to that, I have saved some money in my bank account." says Nyadouth and adds "My disability will not stop me from working hard and growing further."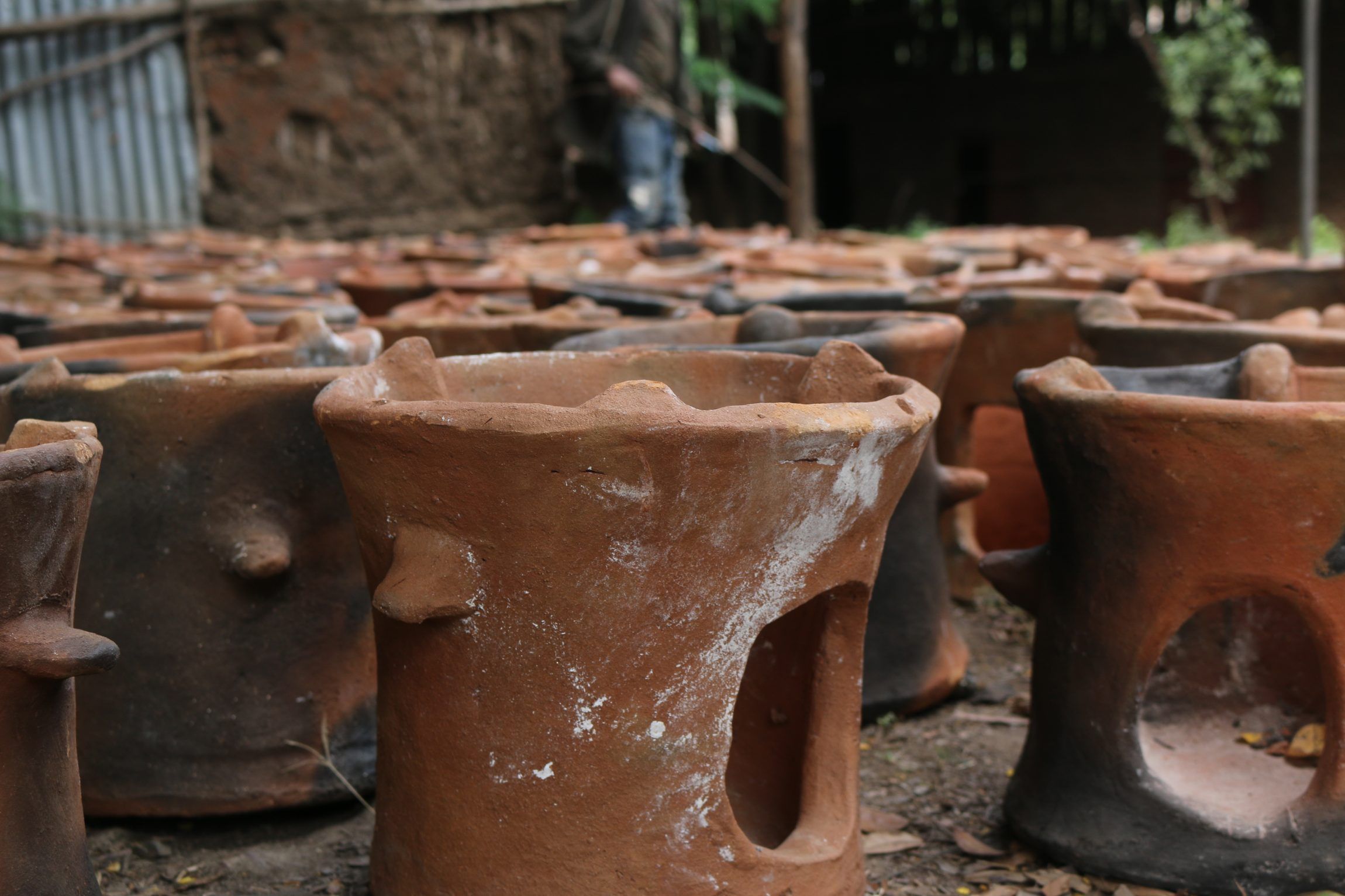 About the Project
The project Enhancing Access to Complementary Fresh Food and Energy-efficient Cooking Stoves for Vulnerable South Sudanese Refugees in Jewi Refugee Camp, Gambella, aims to improve immediate food security and nutritional well-being through e-vouchers for fresh food and address energy needs through enhancing access to energy-efficient cookstoves for vulnerable South Sudanese Refugees in Jewi refugee camp.
In addition to reducing environmental costs, the energy efficient cooking stoves enables targeted beneficiaries to generate their own income and promotes self-reliance.
The project was implemented with a funding of 3,000,000 DKK from the Danish International Development Agency (Danida), from 01/01/2022 – 31/12/2022.