Facts about mines
Every day 15 people are killed or injured after stepping on a landmine or setting off unexploded ammunition. Landmines are indiscriminate – they kill or injure anyone who steps on them. Be it a soldier, a farmer, or a schoolgirl.
80% of those killed or injured are civilians. 25% are children.
But the injury sustained when you step on a mine is just one in a series of negative impacts.
Because mines also:
make it difficult to lift yourself out of poverty
make rebuilding local communities difficult and hamper development efforts
make farming impossible and lead to food shortage
keep children from moving freely and can stop them from going to school
maintain an atmosphere of fear that is strangling to personal and collective initiative
It is estimated that there are 110 million landmines in the ground globally.
When the war in Kosovo ended in 1999 peace descended on one of the most landmine contaminated areas in the world. This is where DanChurchAid first started direct mine clearance to ensure that refugees and internally displaced people could return home.
Since then, clearing landmines and unexploded ammunition has become a central part of DanChurchAid's humanitarian work, and today we are one of the world's leading organisations in the clearance of landmines, cluster bombs, and other types of unexploded ammunition.
Read how it all started: Deminers clear a path
Removing landmines clears a path to hope
Our deminers work in the forests of rural DR Congo, in town centers of Syria, and in the suburbs of Kyiv. When we locate and remove landmines and explosives, we also remove obstacles that keep communities from farming the land, keep children from going to school, and hampers much needed development.
When we release land that was contaminated by explosives, we save lives and spare people injury and suffering – but we also help build livelihoods and communities when farming, cattle rearing, and other activities can resume and grow.
Who is at risk?
People who are displaced in their own countries, and returning refugees, are at particular risk of getting killed or injured by landmines or unexploded ammunition. Both groups of people are unfamiliar with the new hazards and underestimate the danger that landmines or unexploded bombs pose in areas that have experienced active battle or that have been of strategic military importance.
---
Keeping children safe from explosives
---
Farmers hoping to reap only what they sow
A lack of jobs and an income can also force some people into areas that are not safe. Farmland is often in high demand – and the poorest might see no other option than farming in areas where there could still be unexploded ammunition and mines in the ground. But often such fertile areas lie unused when they could be used for farming and sustenance for people in surrounding communities.
Moreover, the fear of a potentially lethal threat that is virtually invisible to the naked eye, creates a feeling of uncertainty that remains in communities long after conflicts have ended.
It is a fear that takes away initiative, slows peace processes, and stunts development for years.
"Clearing landmines and unexploded ammunition is a prerequisite for the safe return of refugees – for them to return to life as they know it after a war. Peace is not just the absence of fighting – it is also being able to move around freely without the fear of stepping on a landmine or bomb."

Birgitte Qvist-Sørensen, Secretary General, DanChurchAid
---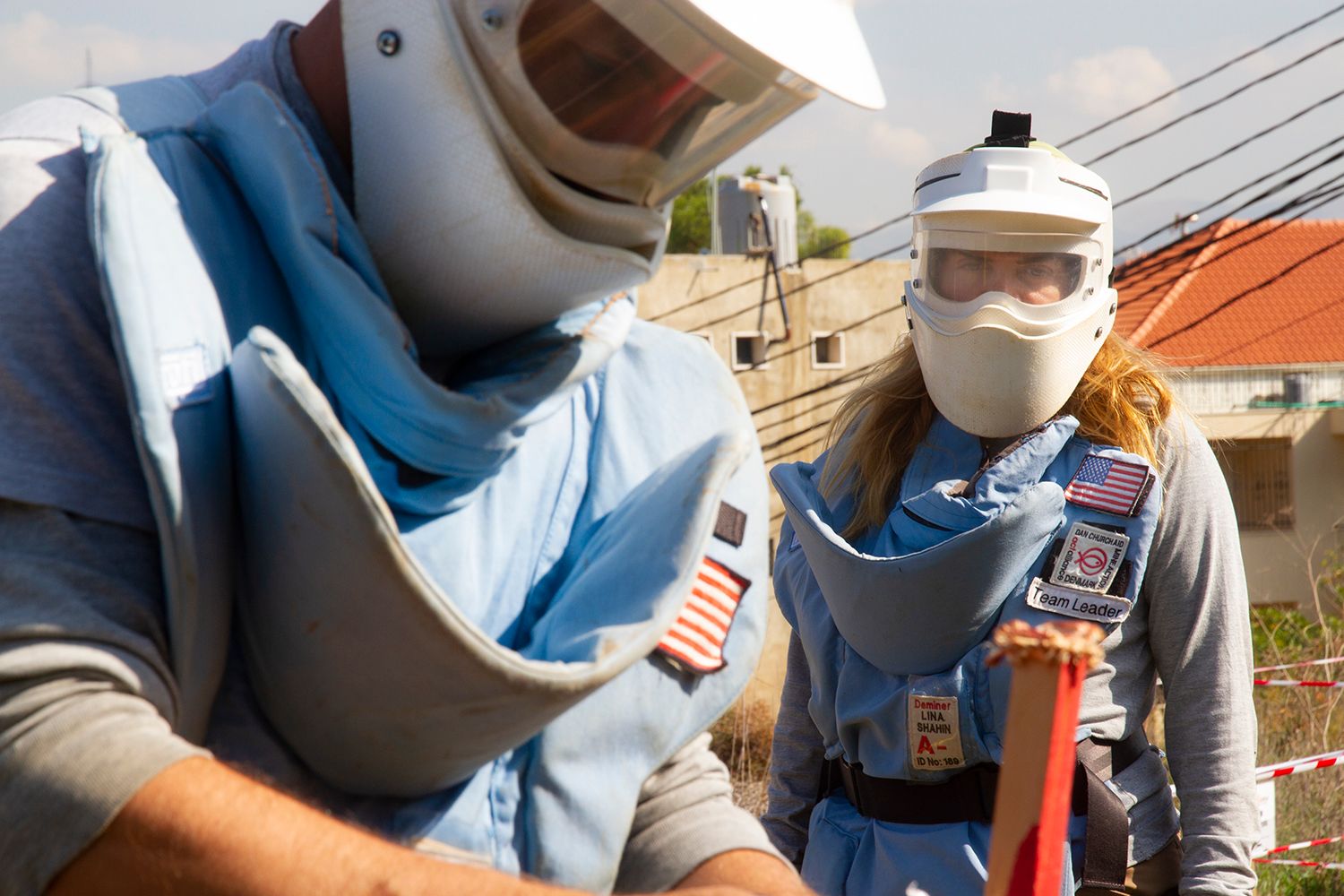 ---
How we work
DanChurchAid works with demining in several ways – including:
training deminers and offering international clearing courses
creating awareness in local communities where landmines and unexploded ammunition are present to avoid accidents
training people in areas where there are mines and explosives to identify and report threats
offering assistance to victims of landmines or unexploded ammunition
engaging in activities aimed at deescalating or avoiding armed conflict
Did you know?
Landmines can be produced for between $3 and $75 US Dollars – removing one costs between $300 and $1,000 US Dollars.
---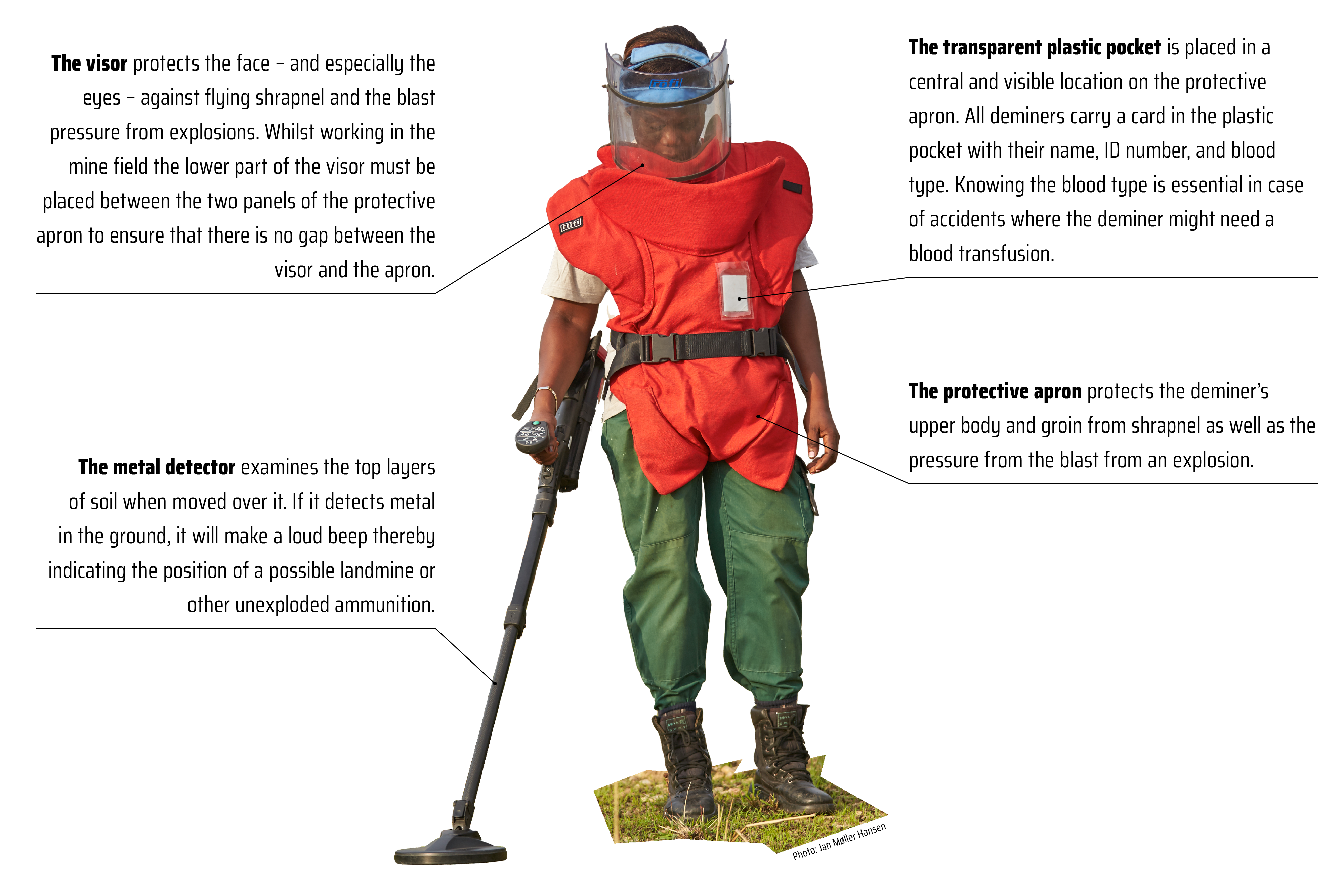 ---
Did you know?
Mine Action is about removing landmines and explosives – but it is more than that. It is a term that collectively describes all the activities carried out to reduce harm – social, economic, and environmental – related to identifying and removing explosives.
It rests on five pillars:
clearance
risk education
victim assistance
advocacy
stockpile destruction
Where we work
Between 2008 and 2023 DanChurchAid has cleared more than 200 km2 of land around the world. In 2023 we work in eight countries where we either build the capacity of partners to conduct mine clearance or work with our own clearance teams.
In some places mine clearance takes place where fighting has just happened – and may still break out – and in other places we remove decade-old landmines in a relatively peaceful context.
Often mine clearance is combined with other activities tailored to the local context – such as rehabilitating schools and other structure, offering psycho-social support to people traumatised by war, enabling productive use of the land that is made accessible after mine clearance, and more.
Read more: DCA's Humanitarian Mine Action Around the World
---
Demining in the DR Congo
DanChurchAid is the last international NGO carrying out humanitarian mine action in the Democratic Republic of Congo. More than 400,000 m2 land – or 56 football pitches – in nine regions in Eastern DR Congo are to be cleared so that the country can declare itself landmine impact free by 2025.
---
Minimising risks in Ukraine
50 years to clear Ukraine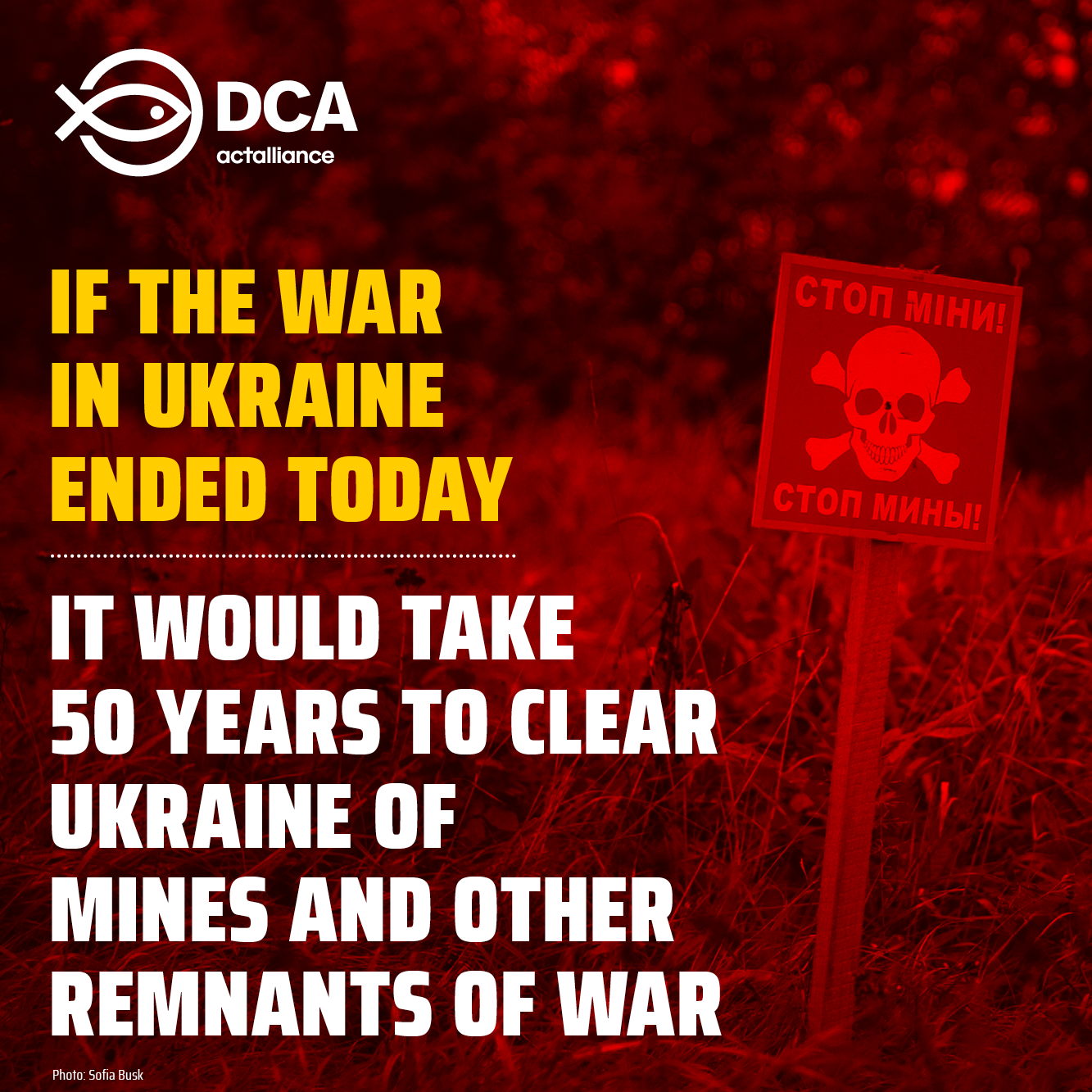 DanChurchAid's demining experts in Ukraine estimate that 1/3 of Ukraine's territory could be contaminated by landmines and explosive. Even if all of resources currently available for humanitarian mine action globally were put together, it would take 50 years to makeUkraine landmine impact free.
By 2023 Ukraine has one of the world's highest concentrations of landmines and unexploded bombs and ammunition on its territory. Consequently, Ukraine also has one of the highest number of casualties caused by these explosives – only surpassed by Afghanistan, Mali, and Yemen.
Shortly after Russia's invasion of Ukraine DanChurchAid stepped in with aid and helped built shelters for those displaced – which was immediately followed by the delivery of protective aprons, detectors, helmets, radios, GPS system etc. channeled to local partners working to minimize the risk posed by landmines and unexploded bombs and ammunition.
This was made possible by funding from DANIDA.
In addition, we work with partners who provide training and information for people who are in contact with landmines and other remnants of war.
"Watch your step!" teaches children and adults in Ukraine how to identify and avoid explosives
DanChurchAid formally opened its office in Kyiv at the end of 2022 and works to continuously build and adjust its program to meet the most relevant and desperate needs in Ukraine – with the ultimate goal of making it safe for returnees to re-settle in Ukraine and help rebuild their country.
---
Local partnerships and training
DanChurchAid collaborates with local authorities and local organisations in training children to identify mines or other dangerous remnants of war, to report to an authority the finding of such objects, and knowing what areas to avoid by knowing how areas with explosives are or can be marked.
In technical terms this is known as Explosive Ordnance Risk Education (EORE).
Classroom teaching can consist of small interactive plays, signboards, board games, or songs to keep the student interested.
In South Sudan DanChurchAid has organized a talent show where schools can come together and show off their knowledge and skills. The show is funded by World Without Mines.
Read more about the talent show here: A Song for Safety
---
South Sudan: Young nation – old troubles
Gaining independence only in 2011 South Sudan may be the youngest nation in the world, not even a teenager yet, but its scars, trauma, and troubles are that of someone much older.
Decades of civil war and unrest have impacted its people, its infrastructure, and its economic and social development. The war prior to independence between what was Northern Sudan and Southern Sudan has left South Sudan of today with large areas contaminated with mines and unexploded bombs and ammunition. And unfortunately fighting continues to break out with no or little warning. In 2022 the local UN Mission to South Sudan recorded three instances of fighting in South Sudan – the latest between August and September in the Upper Nile Region which displaced 20,000 people.
DanChurchAid works with a local partner, Support for Peace and Education Development Program (SPEDP), on educational activities directed at children and young adults.
The MineWolf
We also have demining activities that are carried out in tandem with activities aimed at helping the local population make the most of renewed access to land that was previously contaminated by landmines and explosives. The pairing of the two has been dubbed the 'Hazard to Harvest' approach – and it is especially relevant as South Sudan uses a Mini MineWolf machine. The MineWolf tills the soil in search for explosives – which also happens to be perfect preparation for planting crops.
From Hazard to Harvest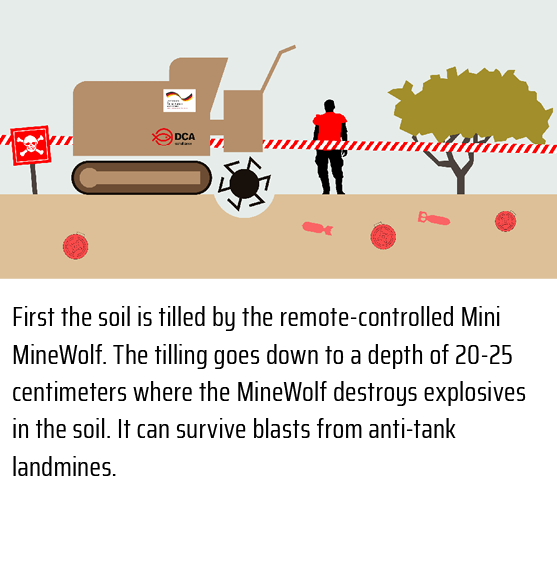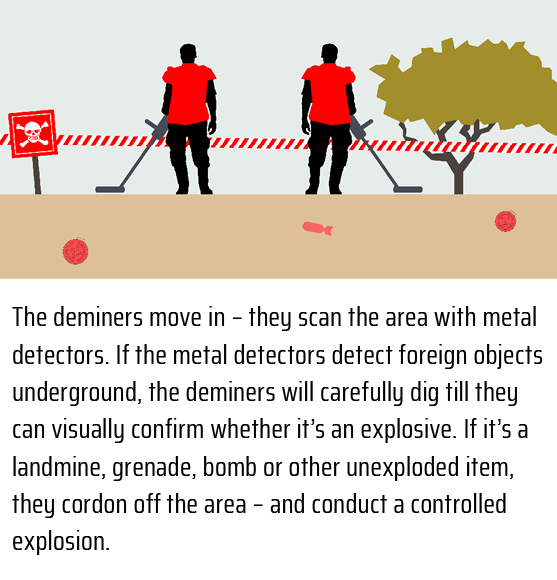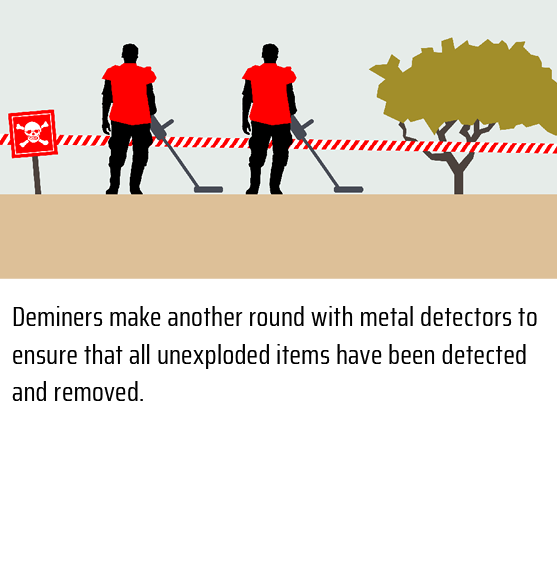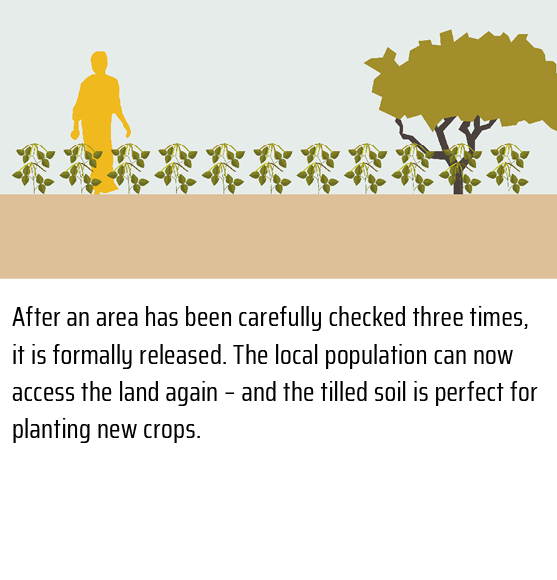 Manual demining vs. MineWolf
Manual clearance:
10 deminers can clear around 20m2 each per day under ideal conditions. In total around 200m2 – and less on not-so-ideal days.
Mechanical clearance:
When the MineWolf smashes everything, and the deminers "just" follow-up with metal detectors, a team of 10 deminers can clear 2,500 m2 on average – or 10 times more.
---
Rehabilitation of infrastructure in Syria
DanChurchAid has worked with humanitarian mine action in North-East Syria since 2015. Many areas in this part of the country were formerly controlled by the Islamic State (IS) – and landmines and unexploded bombs and ammunition are plenty.
In 2020 alone 2,729 people were killed in Syria by such explosives.
This makes it difficult – if not near-impossible – for refugees and internally displaced people to return home. Roads may have landmines, schools may have booby traps, private houses could have tripwires, and fields may be strewn with explosive remnants from fighting.
IS leaves deadly surprise in village school
In July 2021 a DanChurchAid survey team was sent in to assess the risk in a school in the village Deir ez Zor, that had been under IS control. The villagers were afraid to go near the school – and it turned out their fears were not without basis. The survey team discovered a large improvised explosive device hidden under the floor – it was connected to 32 explosive charges all hidden under the floor in different parts of the school.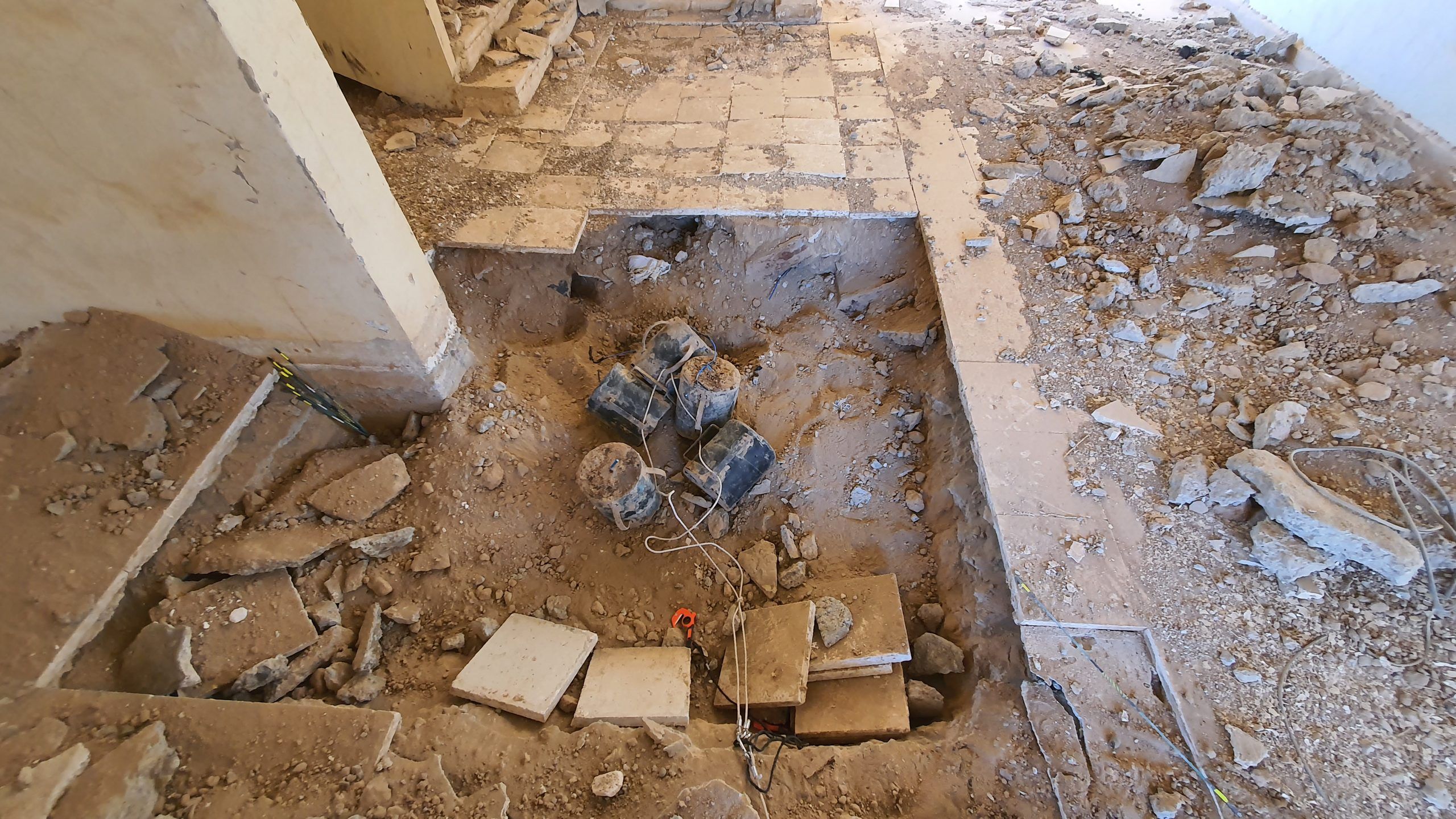 DanChurchAid sent in deminers and after thoroughly checking every inch of the school all explosives were removed. DanChurchAid continued to repair the school so it could be used again by the local community – this included refurbishing the electrical wiring and putting in new floors, doors, and windows. In 2022 DanChurchAid donated school furniture and general equipment to the school.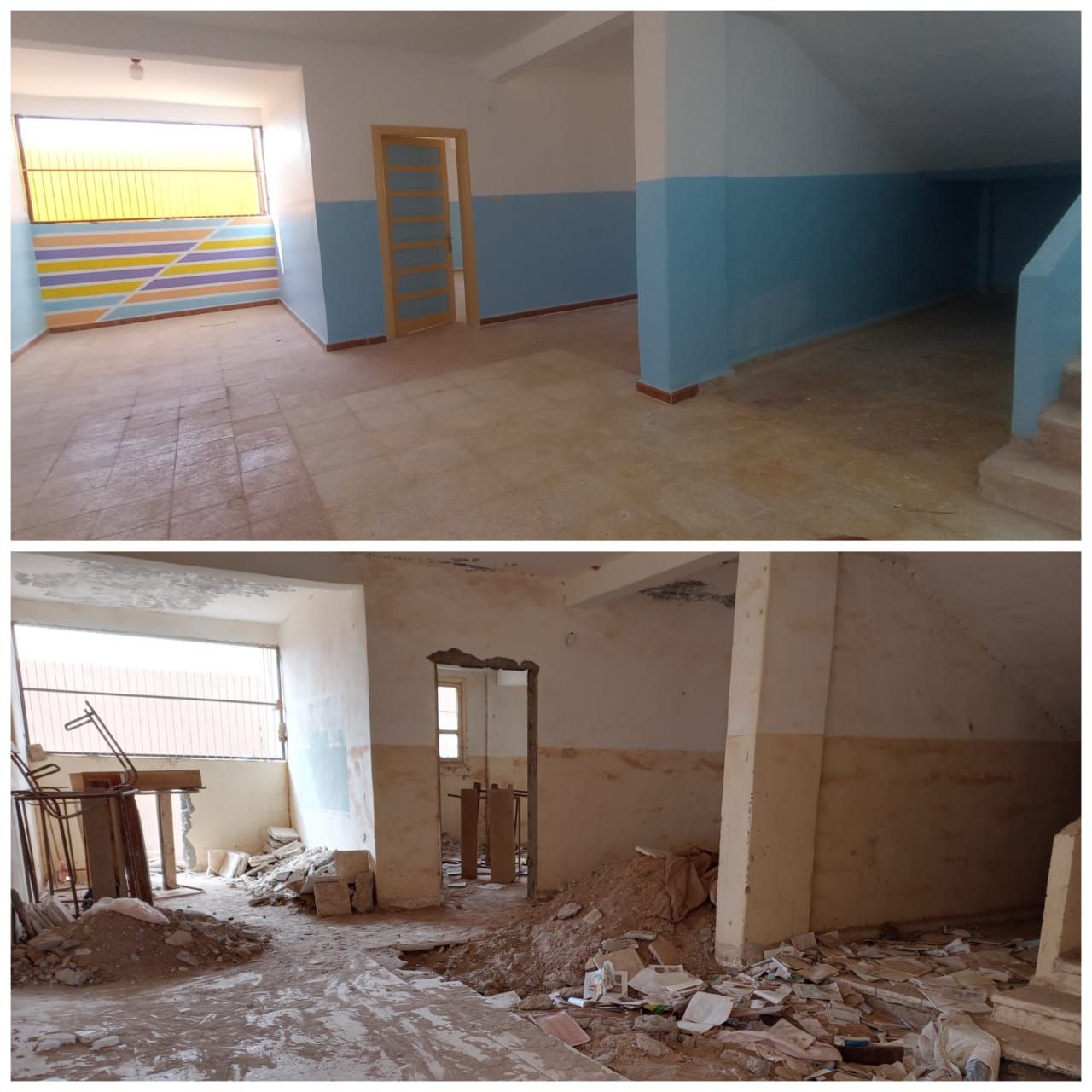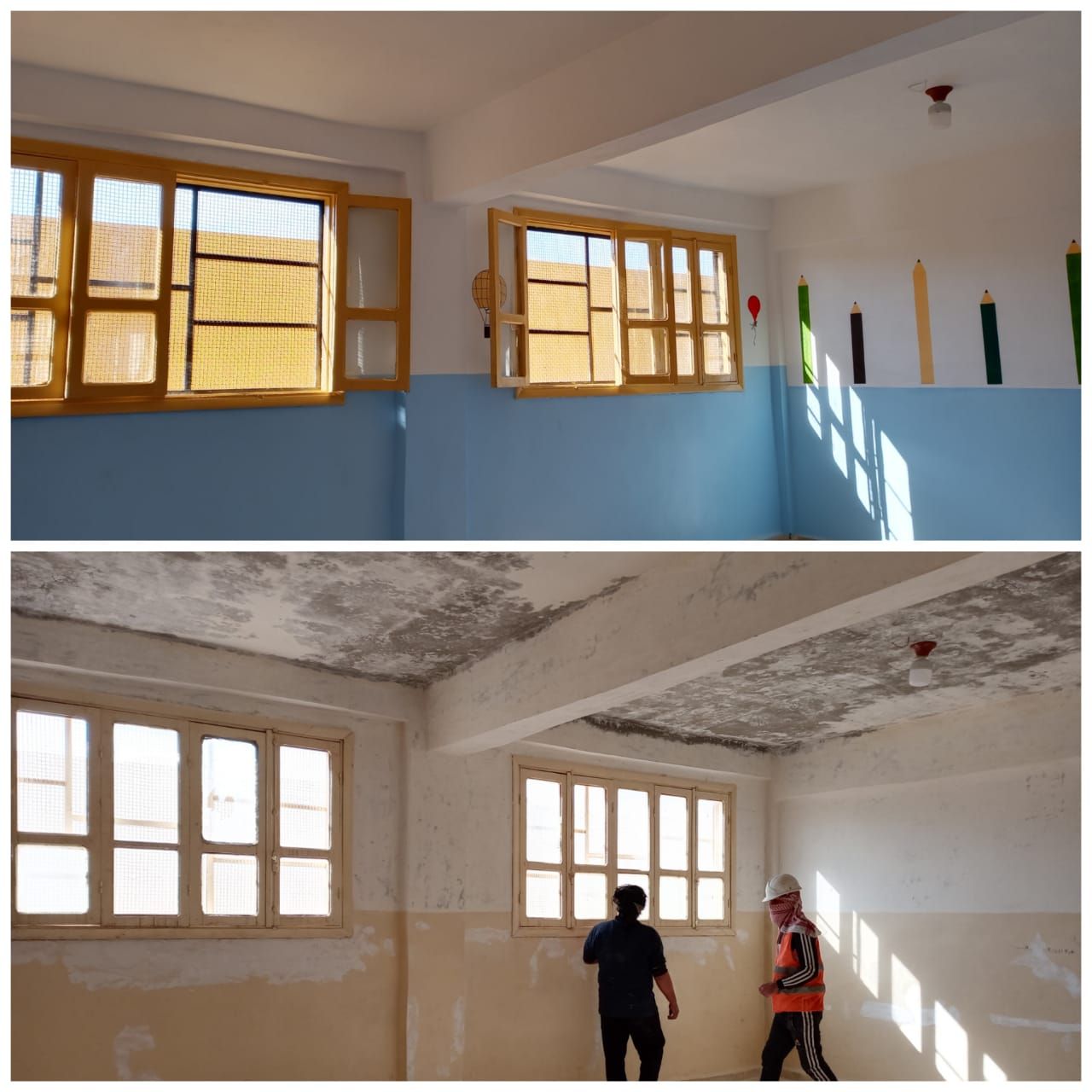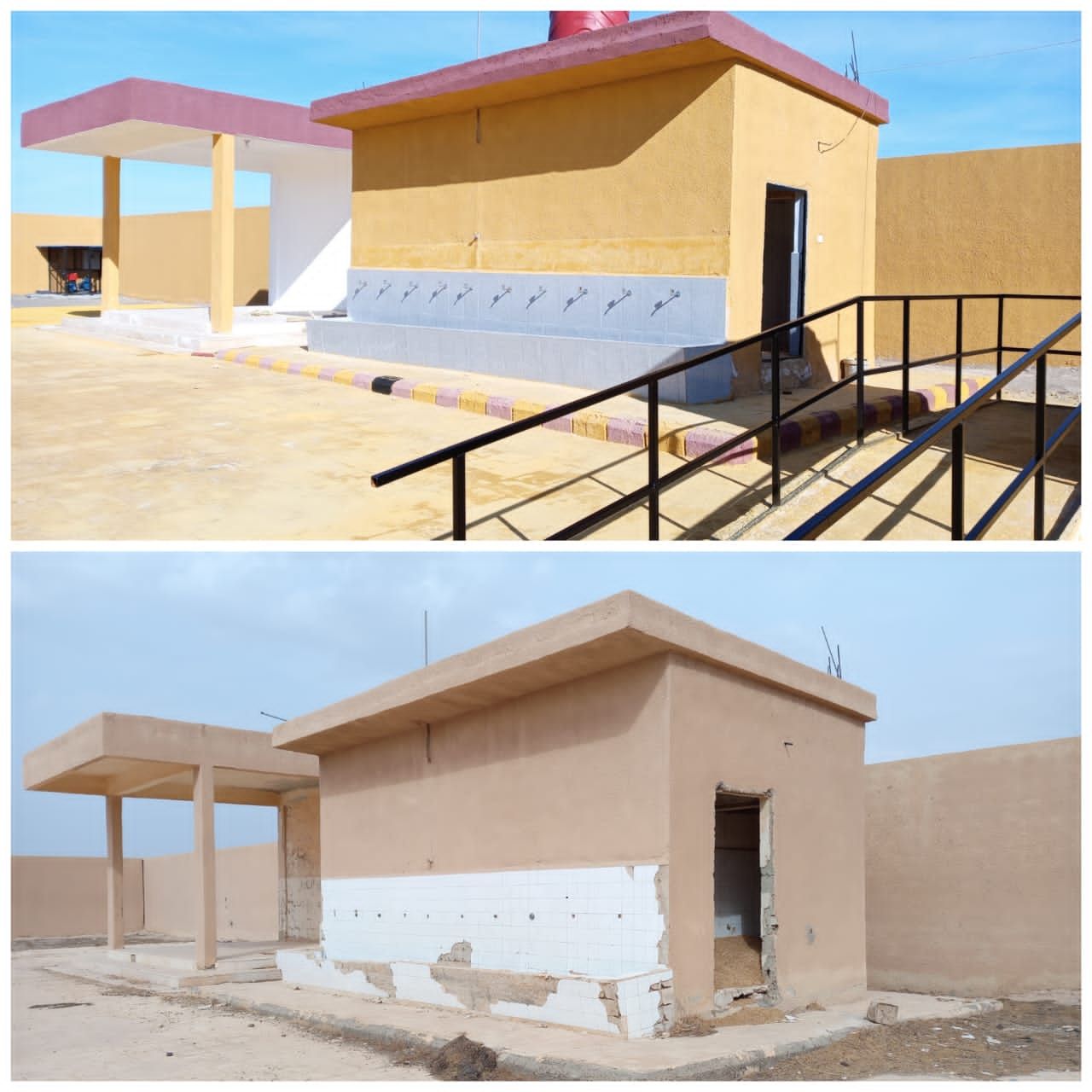 The same year 300 students and 15 teachers returned to the school.
---