"I just want to be safe and feel welcome. That is my greatest wish. I never want to go back to Congo again. I just want a home where I can be safe." 65-year-old Zawadi doesn't hesitate. She has just set foot on Uganda soil after making her escape to the sound of gunshots in and around her village. And she has had enough. It's the second time she is fleeing. This time she's not going back to the DR Congo.
Since 2012 there has been fighting between the rebel group M23 and the Congolese army in North Kivu in the eastern part of the DR Congo – with much of the fighting taking place right on the border with Uganda.
After a couple of years with relative calm, the conflict flared up again in March 2022, which meant that the number of people fleeing to Uganda has risen – and is higher than it has been for years.
Congolese refugees in Uganda
According to numbers from DanChurchAid's partner CAFOMI (Care and Assistance for Forced Migrants), some 30,000 refugees came to Kisoro District in southwestern Uganda in 2019.
In 2020 the border was closed because of Covid19, and the official number of refugees dropped to zero.
In November 2021, however, there were more than 6,000 people at the border wanting to cross into Uganda – and the Ugandan government was forced to open it again.
Just under one year later, in September 2022, DCA Uganda estimated that there were up to 20,000 people living in appalling and unsanitary conditions without access to toilets, showers, clean water, or food along the border on the Ugandan side.
Care and Assistance for Forced Migrants (CAFOMI)
DCA's partner in Kisoro district in southwestern Uganda, Care and Assistance for Forced Migrants (CAFOMI), is frequently contacted by local leaders who say that the villages in Kisoro district are under pressure because they are losing both their income and supplies of food. This creates tension and is a potential source of conflict.
To stave off the conflict and diminish tension, CAFOMI, with support from DCA, distributes cash grants, seeds, and agricultural tools to farmers in Kisoro, whose fields have been destroyed or where crops have been stolen.
Furthermore, CAFOMI trains community leaders in Kisoro in peacekeeping and peace-building activities to ensure peaceful coexistence between host communities and refugees.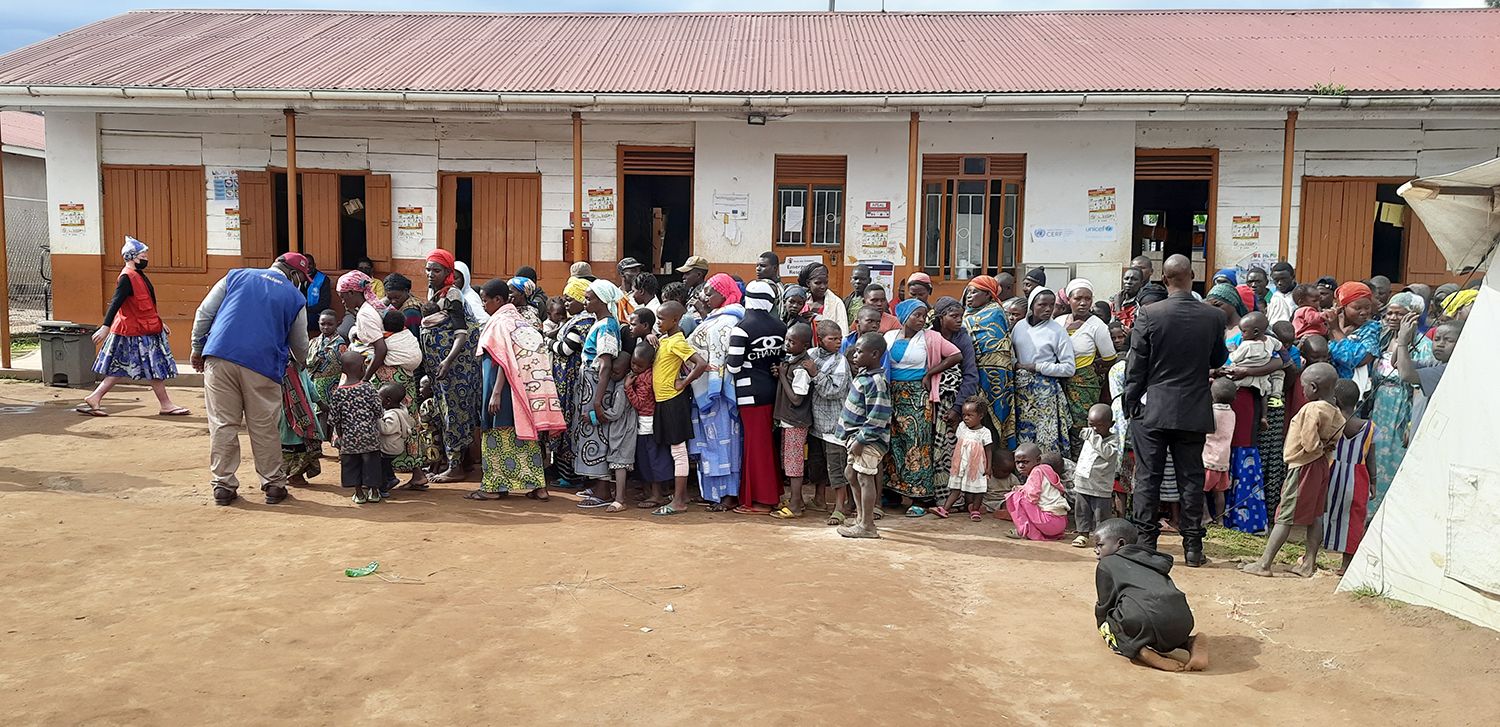 The Nyakabande transit centre
The Ugandan government has banned informal settlements and now more refugees go through transit centres before being directed to a refugee camp – instead of squatting by the border. CAFOMI runs the Nyakabande transit centre in Kisoro – and DCA funds many activities here. The Nyakabanda transit centre can accommodate 800 people at a time – but mid-December 2022 some 1,500 people were registered at the centre.
As long as fighting continues, so does flow of refugees
The number of people crossing the border from the DR Congo to escape continues unabated. The Ugandan government expects 80-100,000 refugees to cross into Uganda from the DR Congo in the first couple of months of 2023.
DCA's support for CAFOMI from September to December 2022 has been extended until December 2023.
DCA has compiled a report with a handful of eyewitness accounts collected in Kisoro district at the Nyakabande Transit Centre – as well as in the local communities hosting refugees from the DR Congo.