Habena Mahei Ali is a 30-year-old man from Eritrea. He came to Afar, Ethiopia when he was 12 years old with his father, brother, uncle, and aunt ago because of civil war in his mother land. It is 18 years ago but he still remembers the tiresome journey on foot through the desert.
"We had to hide during the daytime and walk at night as we feared being ambushed by gunmen. It was after three days of exhausting journey that we reached Afdera district of Afar. On the fourth day, we boarded a car and travelled to Logia. There was no such thing as refugee camp back then, so we had to stay with our relatives in Logia for about three years," recalls Habena.
How does it work?
Sharecropping gives those without land, the access to farming – and those with land, the opportunity to make an extra income. Both parties benefit – it's a win-win situation.
DCA identifies suitable candidates in the refugee community and supports the formation of sharecropping groups – and on the other hand DCA liaises with the local communities to rent out their land to the sharecropping groups on a profit-sharing basis. DCA ensures that the process and the agreements are fair and mutually beneficial.
As the sharecropping groups are made up of refugees with no or little access to tools and resources, DCA provides all relevant materials to the groups – including shovels, machetes, axes, and seeds. In addition, DCA also helps build the capacity of the sharecropping farmers to make sure everyone has a good basic understanding of farming practices.
Sharecropping is an income-generating activity, but DCA recognizes that it not only addresses the economic needs of the participants but also promotes peacebuilding and strengthens social cohesion. Through shared goals and joint decision-making, host communities and refugees are given the opportunity to work together towards a common goal. This collaboration fosters a sense of trust, understanding, and mutual respect, building bridges between the refugees and their hosting communities.
After three years in Logia, Habena and his family were taken in to the Aysaita Refugee Camp at the very beginning of its establishment. While living in the camp, Habena started to go to Mohammed Hummed primary school where he studied until grade seven. Unfortunately, he was not able to pursue his education any further as he had to work to support his family. He got married and is now a father of three children – a son and two daughters.
Despite receiving support from UNHCR/WFP, Habena remained driven to secure additional income to provide for his family. With his strong work ethic, he has seized various job opportunities in fields such as electrical installation and welding.
Sharecropping benefits both refugees and host communities
In 2022, Habena was targeted by DCA as a sharecropping beneficiary. His group – Yangudi Agricultural Group consists of ten members who voted for Habena to be the chairman of their group.
With support from DCA in 2022, Habena and his group members in the Yangudi Agricultural Group planted maize on five hectares of land. They have put in a lot of work in site selection and site cleaning, fence making, watering, cultivation, keeping of the product from cattle and wild animals and the whole management of the farm.
The maize harvest now looks great and is just a month away from being collected. The Yangudi group anticipates a minimum of 15-20 quintal (1.5-2 tonnes) produces per hectare.
"Any work is simply not effective without effort!" says Habena and continues to say that "the work is tiresome, especially keeping the product from cattle and wild animals even at night was a big challenge. However, I believe that we will get a profit that will make us forget all the difficulties, Insha-allah!"
"I have the desire and ability to continue with my current farming and similar activities and I will keep running until I reach my goal! I

Habena Mahei Ali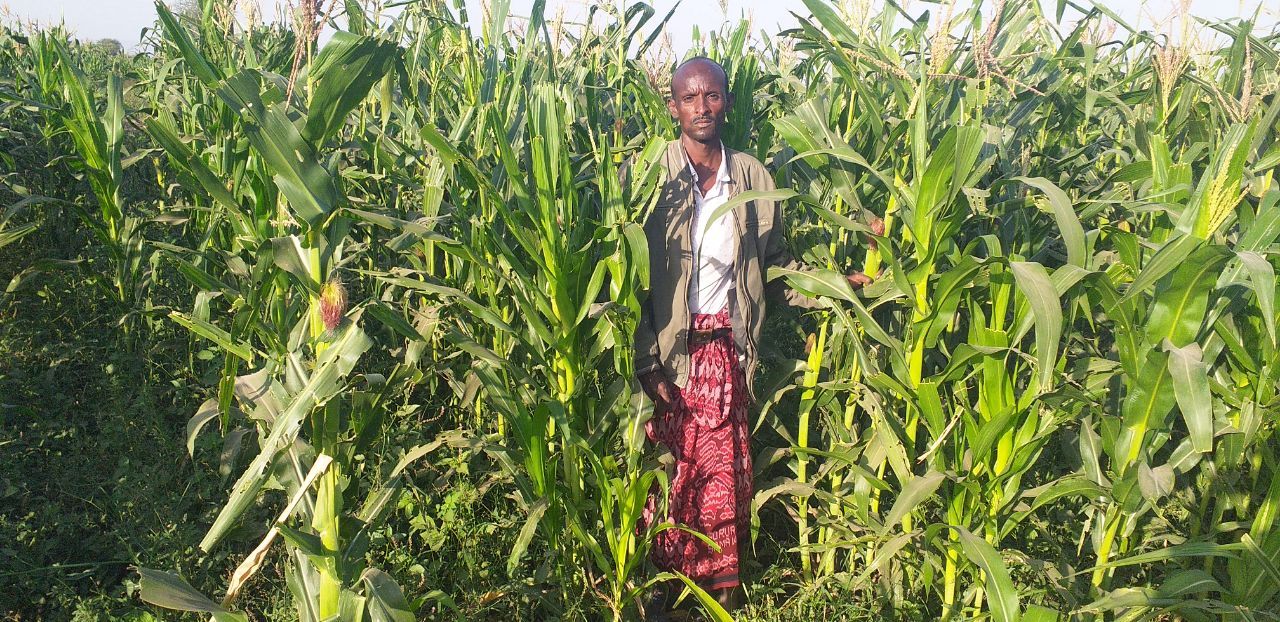 Sharecropping serves as a powerful platform that fosters social cohesion and peacebuilding between host communities and refugees. In this arrangement, host communities offer their land, while refugees contribute their labour. For cotton farms the refugee groups take 80% of the profit and the landowner takes 20% while 70 % goes to the groups and 30 % to the landowner for maize production. This mutually beneficial arrangement not only addresses economic needs but also fosters a shared sense of partnership collaboration and cohesion.
About the Project
Habena is a beneficiary of the Addressing Protection and Multiple Socio-Economic Needs Through a Triple Nexus Approach In South Sudan and Ethiopia project that is funded by DANIDA.