The Issue
Due to Russia's invasion of Ukraine, extensive damage from battles has occurred across the country. Approximately half of the nation is believed to be affected by landmines and other dangerous remnants of war.
As families return to areas that are no longer occupied but still uncleared of these hazards, there is a risk of accidental contact, handling, or attempts to remove explosive ordnance. These actions can lead to accidents, injuries, and even fatalities.
Given the estimates that it may take years or even decades to completely clear Ukraine of these dangers, there is an urgent need for basic information to raise awareness about the risks associated with explosive ordnance, and the identification and clearance of the explosive remnants of war.
The ongoing conflict have also had a tremendous impact on mental health and other protection concerns of the population in these frontline areas
The Project
The project objective is to enhance the safety of communities at risk from mines and other remnants of war by providing comprehensive training sessions and by identifying potentially hazardous areas, while also referring vulnerable population for legal and psychological assistance.
It includes legal help for individuals whose homes were damaged or destroyed, psycho-social support to elderly individuals, persons with disabilities, IDPs, female-headed households, and single parents.
Safety sessions on Explosive Ordnance Education will be provided to the frontline responders, state service providers, and local volunteers in the areas where the hazard is identified.
The Changes
As a direct result of the project, there will be a significant increase in knowledge about the dangers of explosive remnants of war and a reduction in injuries and deaths. When people identify ordnance, they will know what actions to take to ensure safe removal. The areas with explosive hazards identified will be marked and isolated from public access. The cleared ones will be safely used by communities and will allow them to resume agricultural and community activities. Through legal and psychological support, the local population will regain strength and ability to resume normal life.
The Partner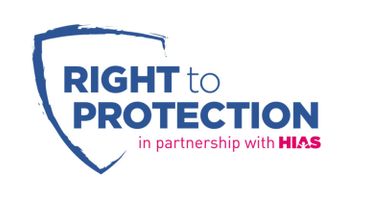 Right to Protection (R2P) is a Ukrainian NGO dedicated to protecting the rights of asylum seekers, refugees, stateless and undocumented persons, as well as internally displaced and conflict affected persons (CAP). R2P has been operating in Ukraine to improve the protection environment for IDPs, CAPs, and other vulnerable persons, to facilitate both urgent and sustainable solutions through protection mainstreaming, information campaigns, legal assistance, strategic litigation, capacity building, and policy development – in cooperation with civil society, governmental institutions, international organisations, and donors.
Our Work
DCA has been present in Ukraine since March 2022 shortly after the start of the full-scale invasion by the Russian Federation (RF), and quickly established an operational platform to provide humanitarian assistance in collaboration with partner organisations. DCA is well-positioned as a leading INGO partner on localisation, innovative cash-based programming, and humanitarian mine action (HMA).
---
About this project
Full title: Enable safe returns and enhancing local response capacity
Period: 01 September 2023 – 28 February 2025
Partner(s): Right2Protection
Amount: 2,100,000 EUR
Donor(s): ECHO