On either side of a wide dirt road, small shops stand close side by side. The shops are modest, and most are sparsely built of worn tin roof panels of various colors. This is where the residents of Kakuma refugee camp and surrounding settlements buy many of their goods.
The Kakuma refugee camp is located in the northwestern part of Kenya and was established in 1992. Today, more than 15 different nationalities live in the camp, the majority of whom are refugees from the civil war in South Sudan.
Armele Ngakani and Mulonda Benjamin's small shop stands out with its light blue façade and red-painted letters that read 'FRESH FISH STALL'. Here, customers can buy fish caught in the coastal town of Mombasa, located 1,200 kilometers southeast of Kakuma.
When Armele and Mulonda first opened their fish stall in January 2021, they sold tilapia fish caught locally in Lake Turkana. A few months later, they expanded the range with fried fish, and today they are some of the only ones in Kakuma to sell the popular fish from Mombasa.
It started with a good idea
When Mulonda Benjamin arrived in Kenya in November 2016, he noticed that many of the residents of Kakuma refugee camp did not have access to fish. He decided to change that. So he joined forces with four other young refugees – including Armele Ngakani – and started a small fishing business.
They quickly established an agreement with local fishermen who caught the fish in Lake Turkana. Mulonda and the four other youths would then walk the streets with fish under their arms and try to sell them to the residents of the Kakuma refugee camp.
The idea was good, but not so sustainable in the long run. It took too many resources to seek out potential customers in the village. And the fish they didn't sell went to waste because they had nowhere to store them.
Mulonda and Armele knew they needed a helping hand to keep going.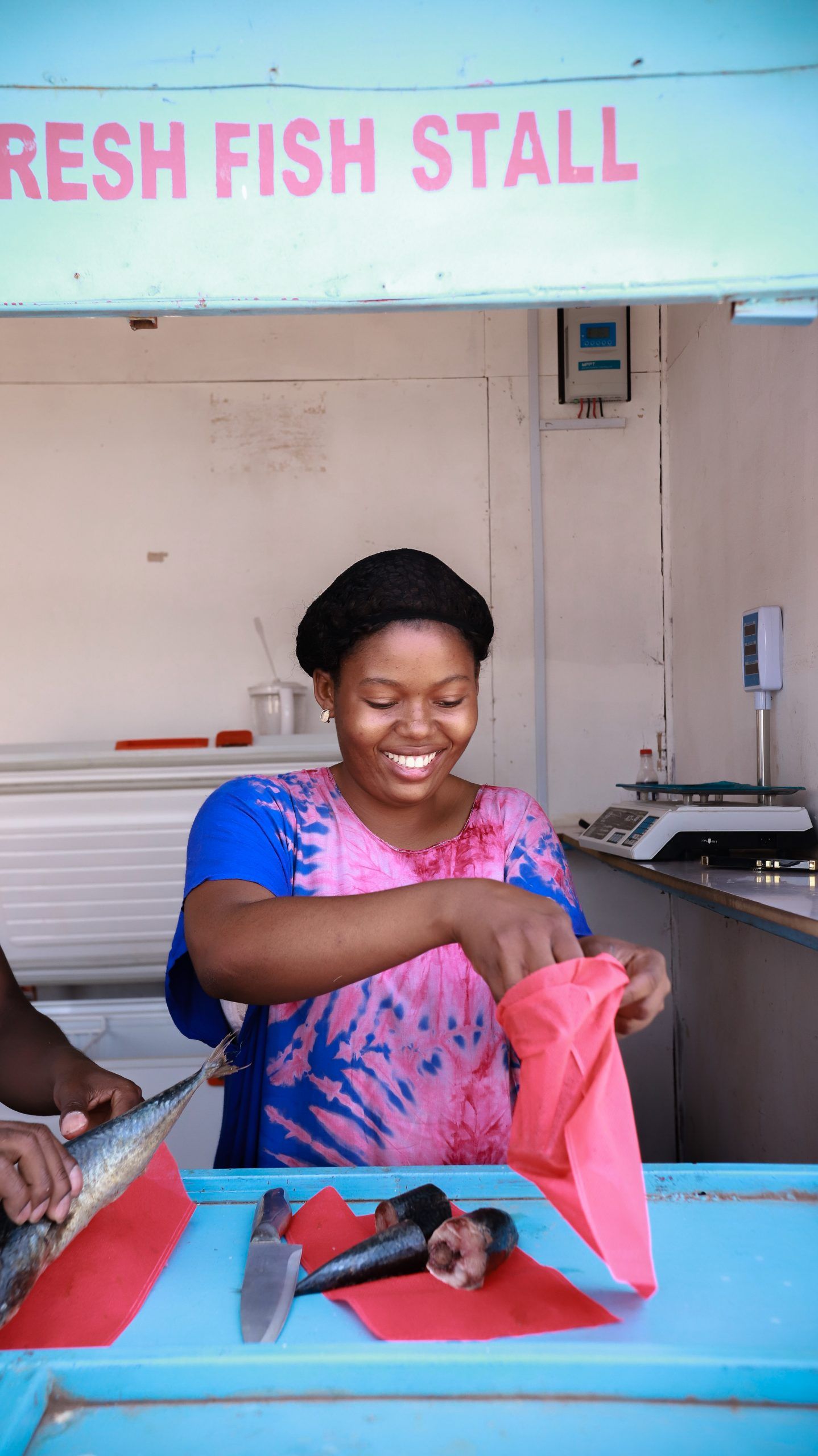 Support, knowledge and new opportunities
In January 2020, the five young people participated in a course in entrepreneurship at DanChurchAid, where they were trained in running a business. Soon after, they applied for a financial grant in the hope of getting better conditions for running their fishing business. And this financial push turned out to be just what it took to realize their dreams.
With a little more money in their pocket, they established a physical store with a permanent address. Their customers come from many different places, so it means a lot to them to have a stall with a physical address, Mulonda says.
With the money, they could afford, among other things, to buy a freezer where they can store their fish. It has given them new and better opportunities to run their business. Instead of throwing away the fish they don't sell, they can now store them in the freezer. In this way, they ensure an important income and that good food does not go to waste.
We don't know what life will bring in the future. But right now we are here, and the knowledge and experience of running a business we have gained will help us a lot in the future

Mulonda Benjamin
Want to inspire other young people
Both Mulonda and Armele live in the Kakuma refugee camp with their family. Around 240,000 refugees from different countries live in the refugee camp. Many have fled for various reasons, but common to them all is a hope for security, peace and a better life.
"We young people in the Kakuma refugee camp are having a really hard time. Many do not know how to proceed or where to start. We need to come together and support each other. It has made me stronger to join forces with others on a common project. We started with nothing, but now we are strong and have some capital to work with," says Armele.
Mulonda and Armele hope that more young refugees will join their business community or be inspired to start their own.
"We want to inspire other young people. We have evolved a lot since we started. I think people can learn from our example. But it's about making a choice to make a difference," Mulonda says.