Matulizo Rashid Patrick, a 29-year-old refugee from the Democratic Republic of Congo, is the founder and owner of Kalobeyei Computer Centre and Cyber. He arrived in Kakuma in 2016. While in the camp, he learned about DCA entrepreneurship training from a DCA staff member. He applied and was selected for the training, which equipped him with valuable skills such as business idea generation, business plan development, customer relationship management, and value proposition creation.
Patrick had a passion for business and began saving money after the training to fulfil his dream of establishing and running a business. With financial support from some of his family members, he started Wi-Fi hotspots in the camp under the brand name "Patrick Wi-Fi," providing internet access to the community and earning an average of KES 10,000 – 15,000 per month. While offering Wi-Fi, he dreamed of starting an IT training program to offer IT skills to the youth in the camp.
Support and new opportunities
In 2021, Patrick applied for and won a grant of KES 200,000 from DCA to set up Kalobeyei Computer Centre and Cyber, where he provides IT training and related services. He used the grant to purchase equipment such as solar panels, batteries, charge controllers, and reconditioned laptops. Since launching the training centre, he has trained five cohorts of approximately 30-40 students each, equipping them with IT skills, and some have even secured employment as a result.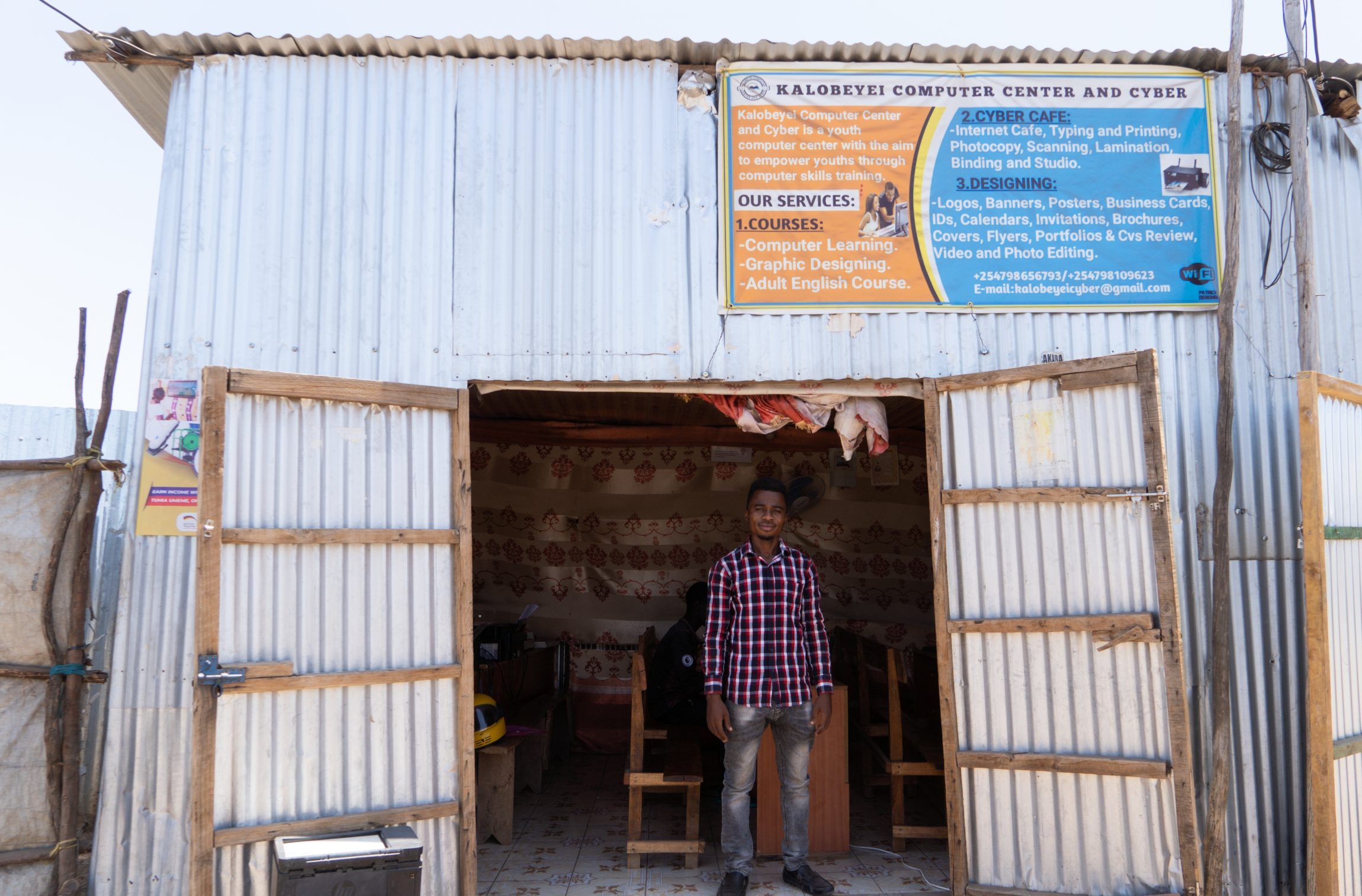 Patrick charges between KES 3,000 – 6,000 for his courses, and he earns around KES 60,000 – 70,000 per month, with an average profit of KES 20,000 – 30,000. He employs five people to help him run the trainings, and he plans to expand his training by acquiring a larger space and opening more training centres in different locations within the camp.
"DCA should offer more business grant opportunities to youths with viable business ideas in the camp as they will empower them economically

Matulizo Patrick