It's 2 pm in Lodwar, Northern Kenya, and the sun is brutal; going way over 34 degrees, baking the ground, and turning grass, or what's left of it, into crisp.
Even the wind blowing from Lake Turkana provides no relief. Instead, it howls monstrous dust on the brown-patched landscape consisting of squat thorn trees, camels walking in a line, and thirsty goats clustered under measly shadows of the trees.
Naotin is approximately ten kilometres from Lodwar Town in Turkana County. This is one of the areas of Kenya most severely affected by the worsening drought; making it even more incredible to believe that farming exists.
For four consecutive seasons, many parts of Northern Kenya – including Turkana County – have received less than 30 percent of normal rainfall. The most recent rainy season (March – May) was one of the driest in the last 70 years. The lack of rainfall has wiped out crops, and pastures and exacerbated food and water shortages.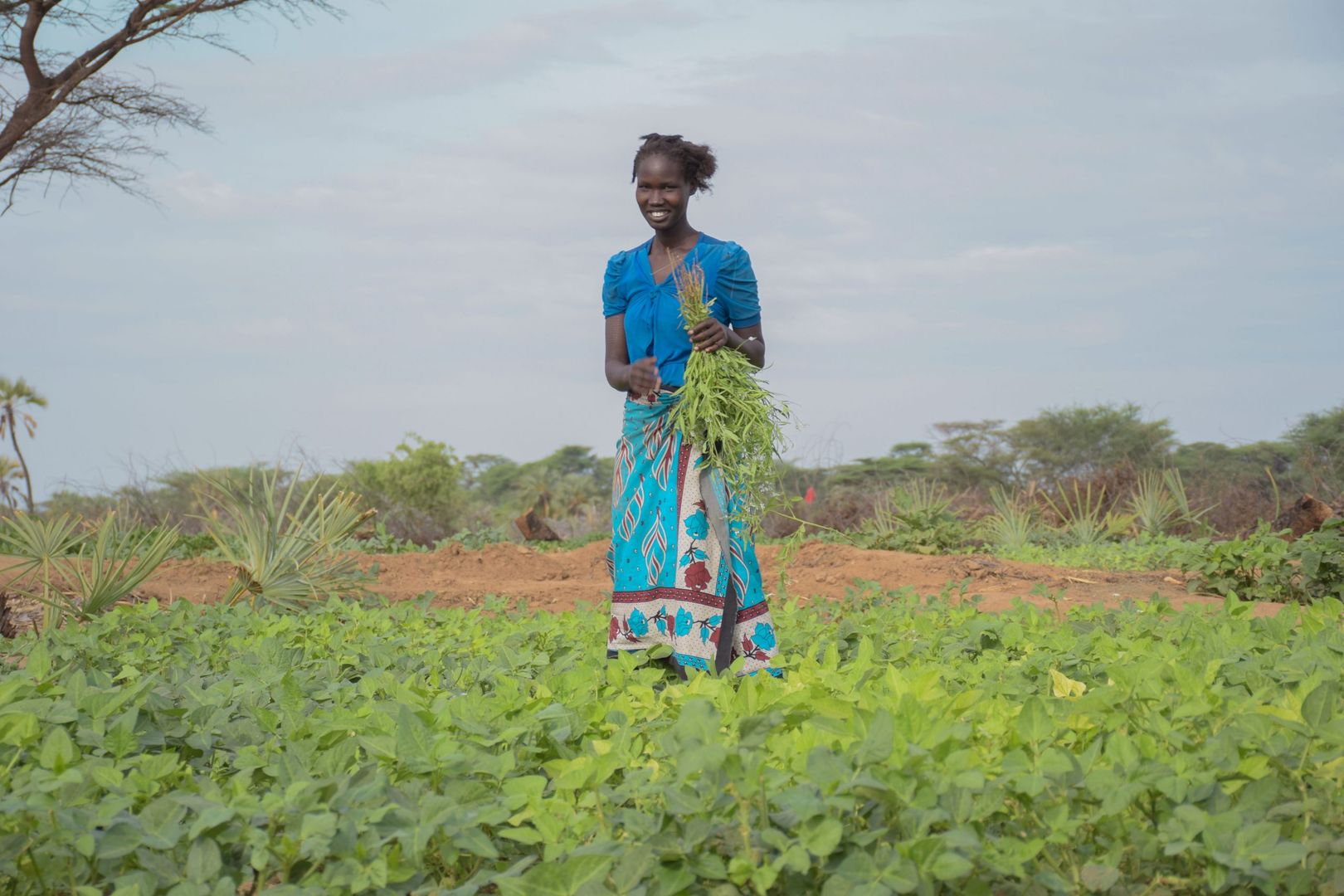 Yet Naotin farm, a community five-acre farming operation, looks almost mirage-like, with acres of colourful vegetables, corn, millet, and sweet potatoes ripening in the hot sun; like a green oasis in a sea of brown.


A quick walk around the farm reveals more crops growing thickly and vigorously, with each crop neatly defined in different sections. Then we watch as two children pick kales and spinach that their parents will serve that evening for dinner.
Groups were formed for the local families, who mainly relied on livestock as a source of livelihood, to encourage and help each other plant, harvest, and sell crops, and share their seeds and seedlings.
Since land is communally owned in most parts of Turkana County, the group – through engagement with other community members – selected a one-acre piece of land, which was sub-divided into 10ft-by-10ft land parcels.
There are 15 farmers in each group. Each group member tends to their piece of land, farming indigenous vegetables such as amaranthus, spider plant, Jew's mallow, and African Nightshade. The farmers are also encouraged to farm millet, watermelons, and eggplant.
Projects provide water for farming
Naotin farm in Kanamkemer Ward, Turkana Central Sub County, is one of the four farming projects established by Kenyan organisation SAPCONE, with support from DanChurchAid. The projects, financed by the Danish International Development Agency (DANIDA), are taking place in different parts of Turkana County to improve the nutrition of the community members, while at the same time enabling them economically through the sale of produce; diversifying their livelihoods.
The projects dealt with arguably the most difficult part of growing plants in Turkana — the lack of water. In 2019, DCA and SAPCONE solved this by digging boreholes, setting up solar water pumping systems, equipping the farms with drip irrigation systems, and buying tanks to store water.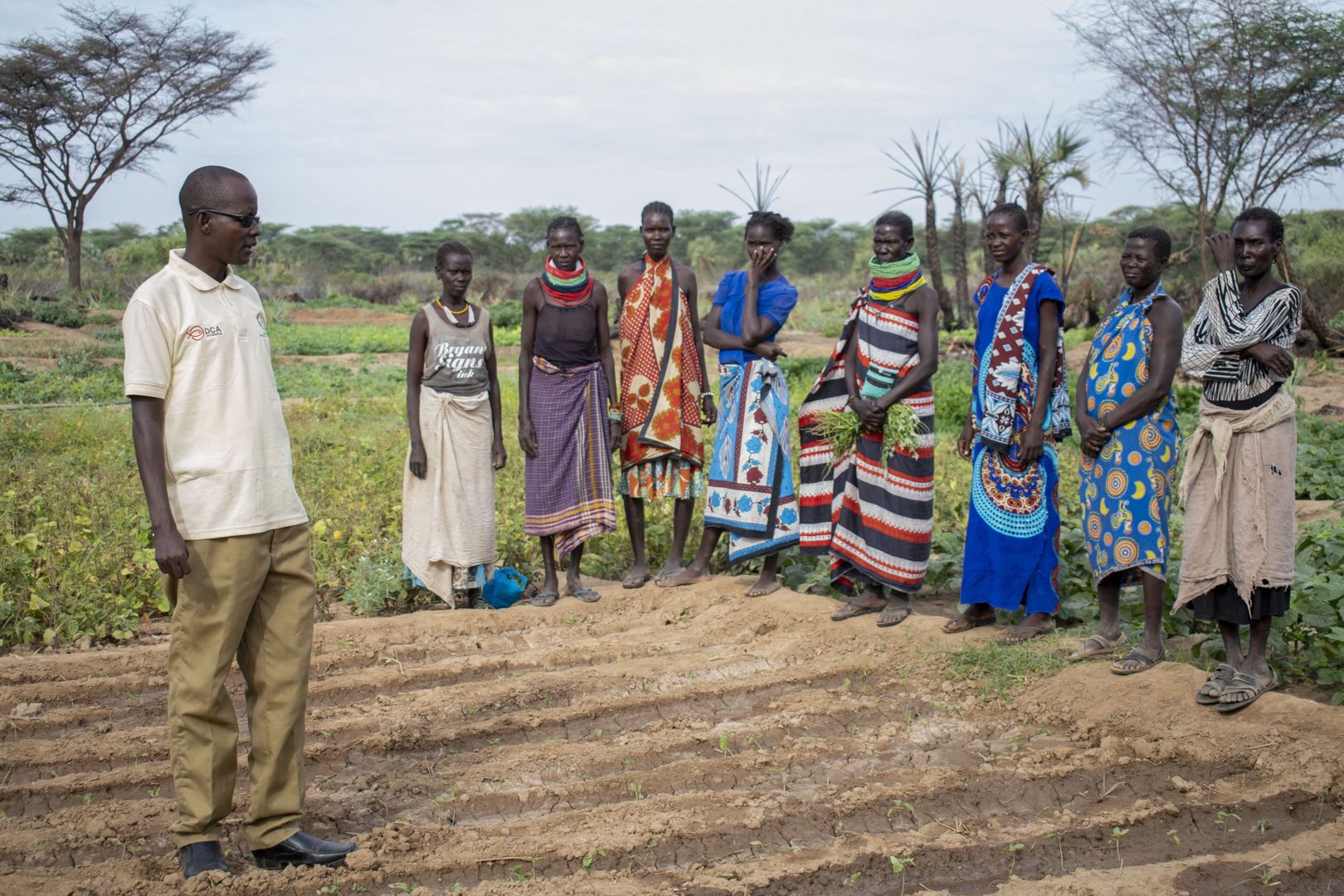 Vincent Apayo, a community facilitator at SAPCONE, shows the residents appropriate farming techniques including farm preparation, crop rotation, water regime, composite making, how to limit the concentration of pests and diseases, boost crop yields, improve soil structure, and maintain soil fertility, and get better markets/ pricing for their produce.

© Ricky Sumbu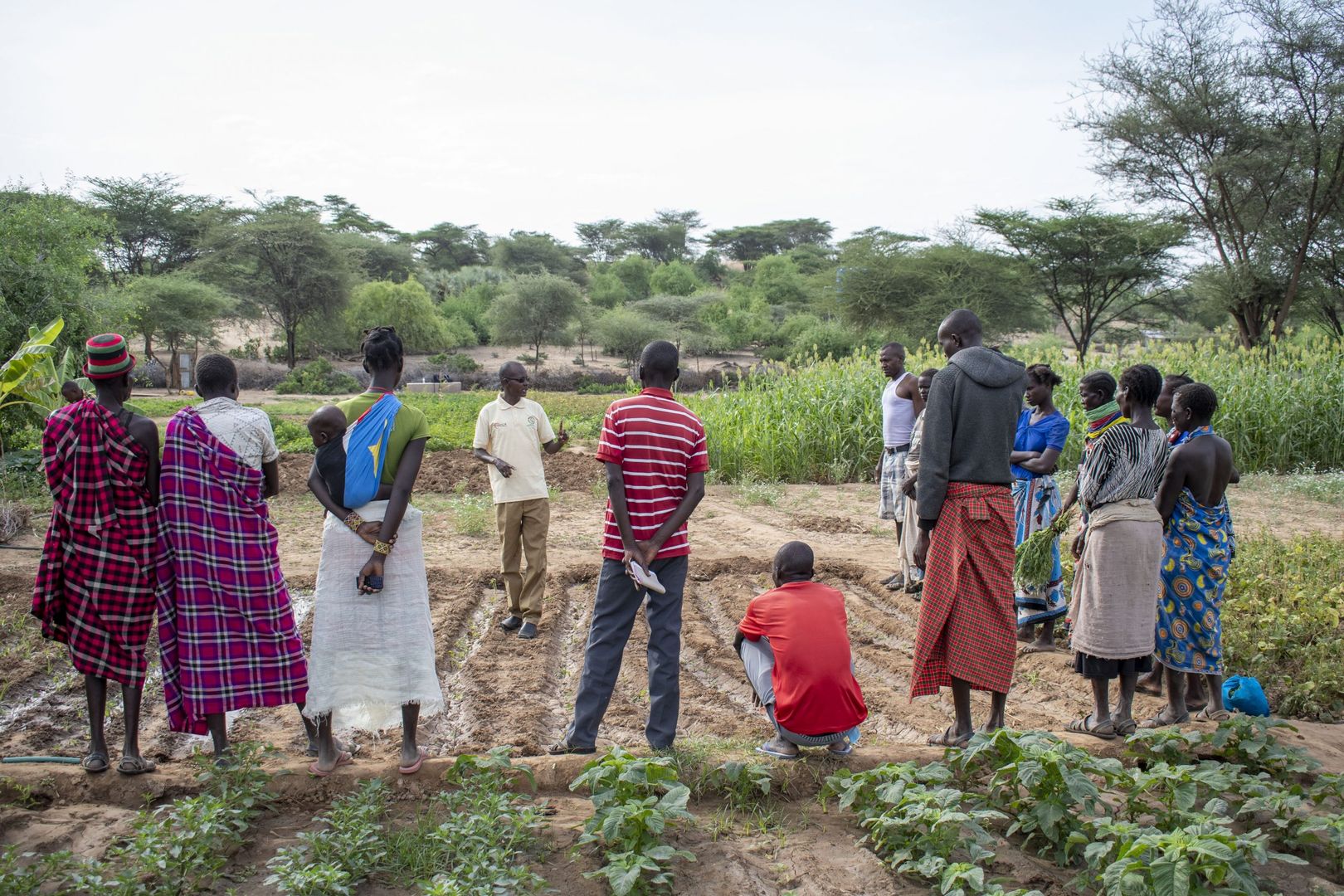 Having grown up in the community, that throughout time has relied almost entirely on their herds which are wiped out during droughts, he now brings knowledge back home – and things are visibly changing there.
© Ricky Sumbu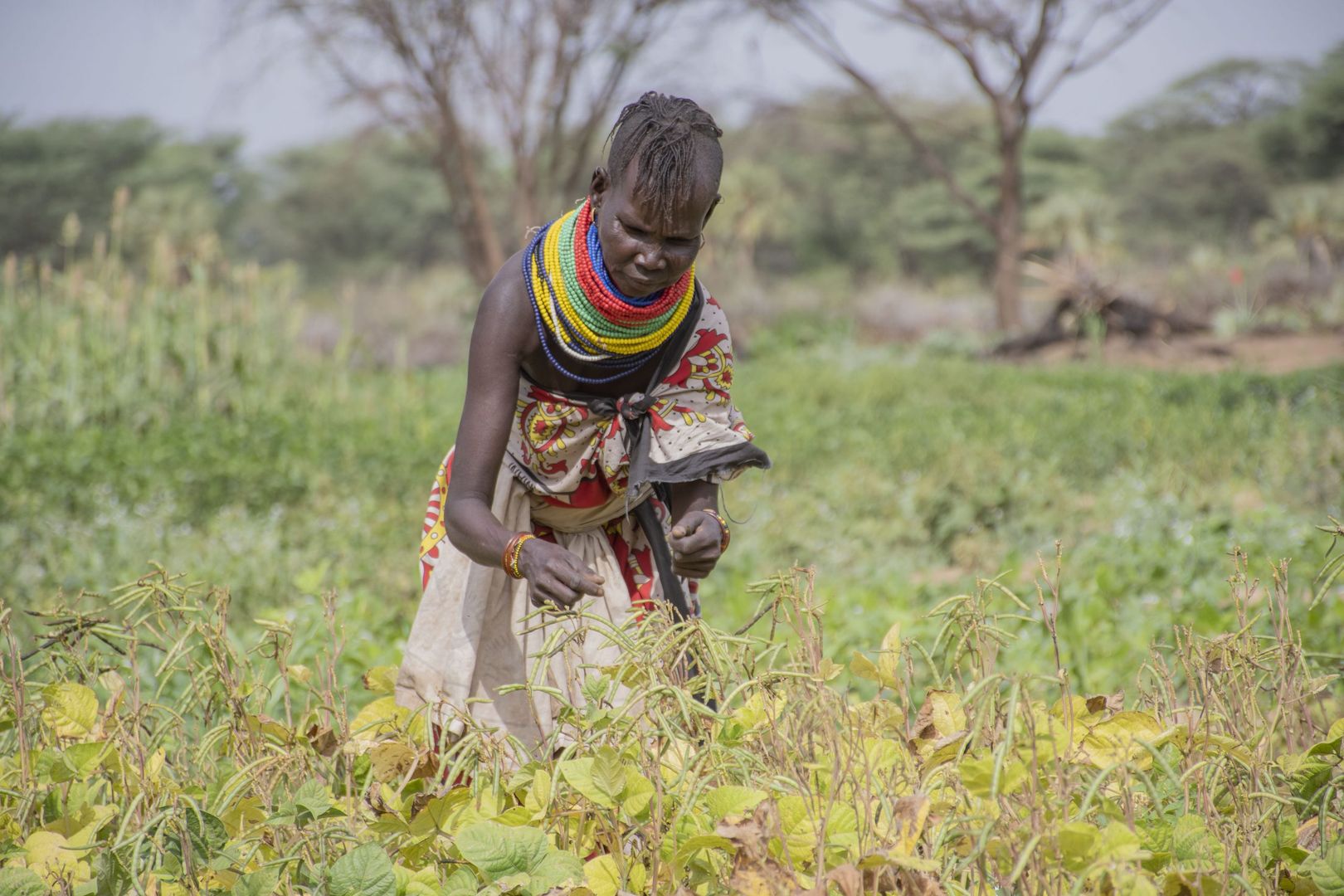 Despite the consecutive failed rains in the county,said Vincent, the farmers at Naotin Farm have not been as badly impacted by the effects of the ongoing drought.
© Ricky Sumbu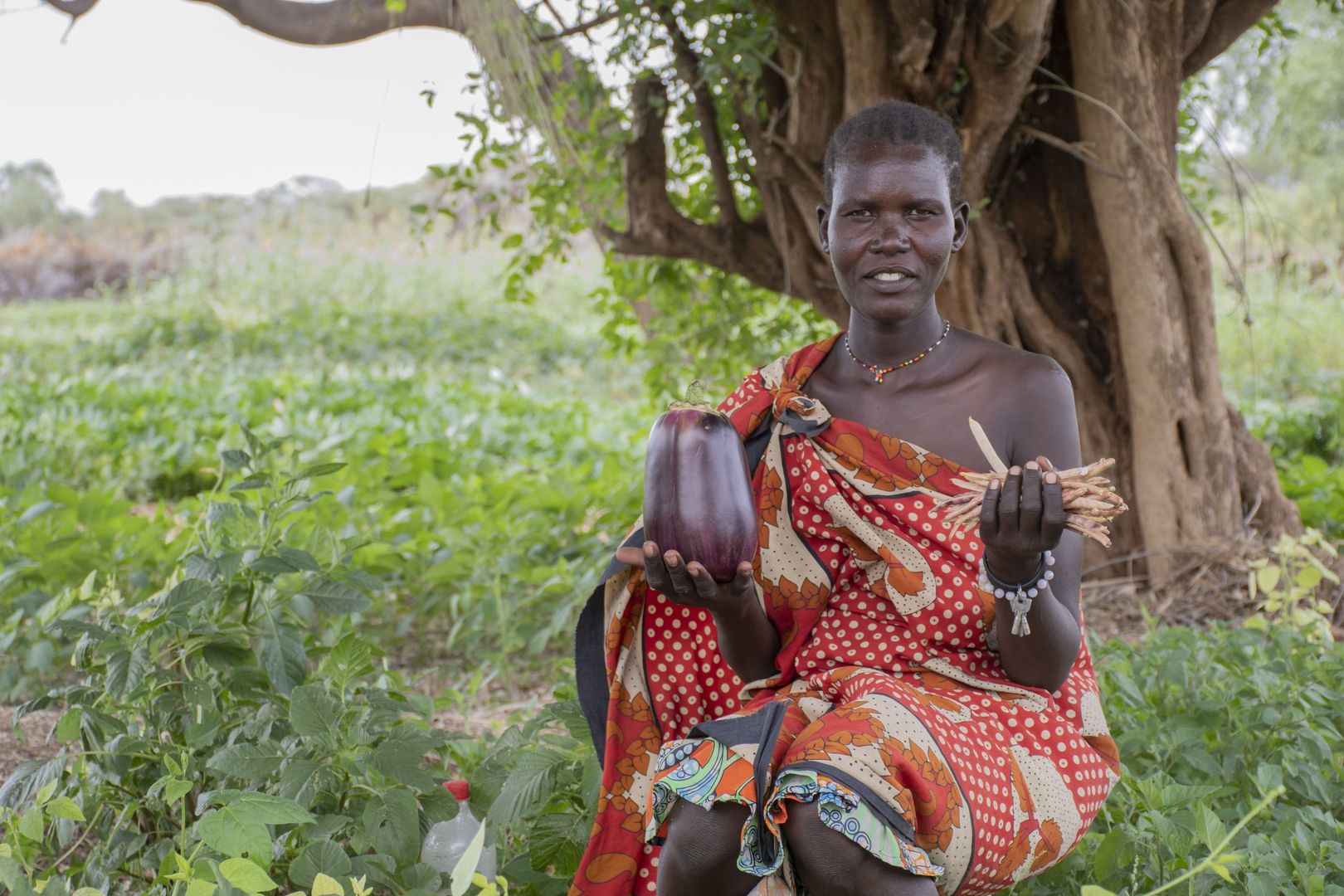 He says the greenery and good harvest at the farm during drought season show that promotion of a suitable environment – including water supply via boreholes and tanks, provision of inputs such as seeds, and training on farming – is a recipe for fruitful, profit-making farming in arid and semi-arid areas in Kenya.
© Ricky Sumbu
Crop farming was a new concept at the beginning; people here didn't know about vegetables. But now you find people are very happy with the results of the farming activities. They have the desire to have a vegetable in their diet and increased income. It makes me very happy

Vincent Apayo- community facilitator, SAPCONE
In the first year of farming, most farmers made between Ksh 700 – 1000 daily ($5-8 USD) from selling the surplus produce. Most of the produce is sold at the Lodwar market, hotels in Lodwar town, and to community members within Naotin. Owing to that, the community group members have increased from 15 to 70 farmers.
The increase in farmer numbers has been complemented by an increase in land acreage from one acre in 2019, rising to two acres in 2020, and five acres in 2022.
With increased interest from the community, the group plans to expand the farm from the current five acres to ten acres in 2023.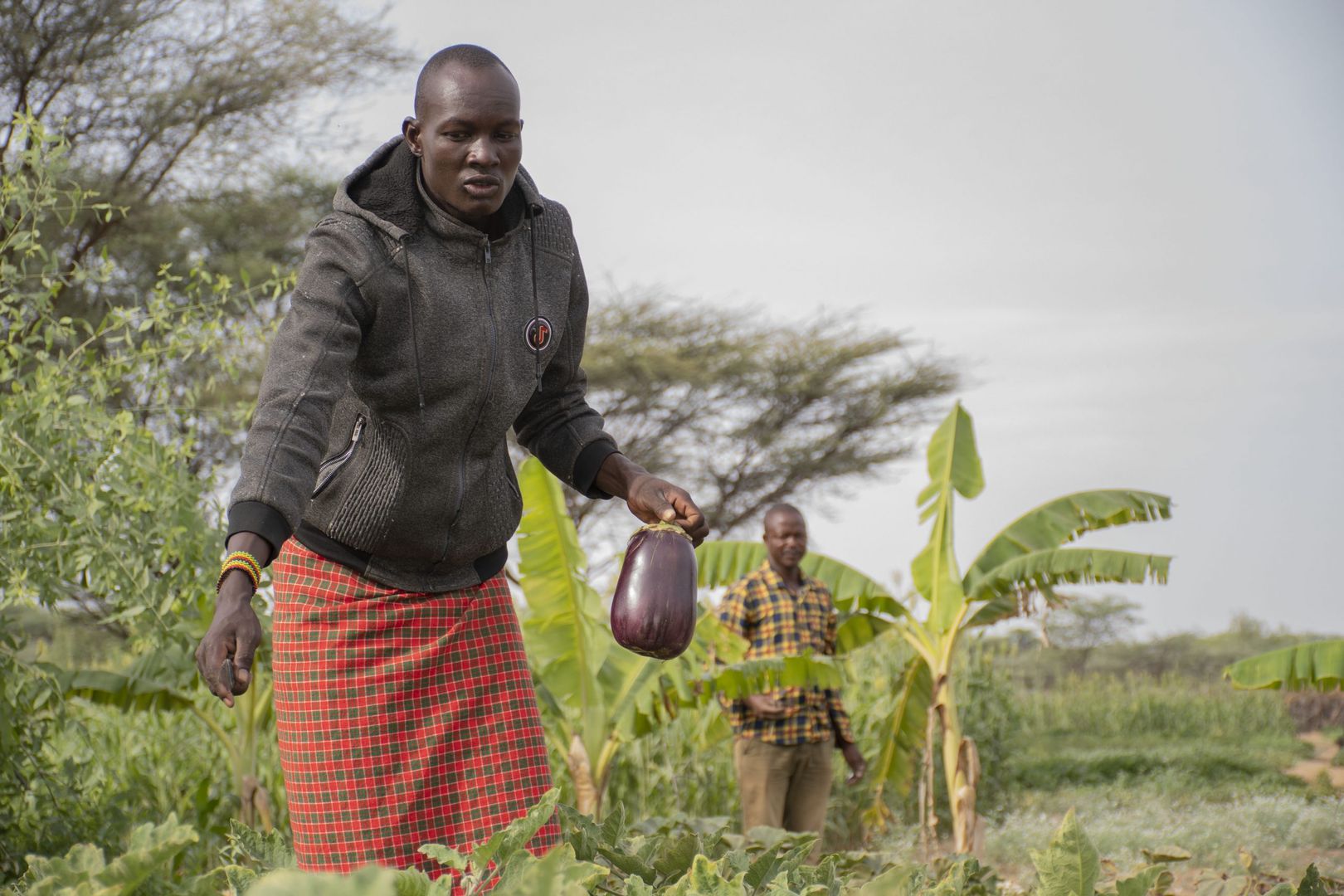 Simon Eyanae, a farmer said that the farming project has enabled community members to eat better, and enjoy nutritious meals, due to the inclusion of greens that were traditionally unavailable and the ability of community members to purchase flour, cooking oil, sugar, and beans, from earnings.
© Ricky Sumbu
Our life has changed. With the farming and earning from the farm, most families are increasingly eating three meals a day, something that was not possible before,

Simon Eyanae – Farmer
Another group member said that the farm has enabled him and his wife to save enough money to buy clothes and food items, pay fees for their children in school, and purchase other basic necessities.
"These days we wear nice clothes, because of the earnings from this farm. The community also access water from the various storage tanks that serve the farm. Previously, women and girls would walk for five or more kilometres to fetch water from the river. With the Naotin farm project, this distance has been reduced to one kilometre or less. We are very happy," he said.
The project is now benefitting communities in different places in Turkana County, including Kerio, Lowarengak, and Kalobeyei.
Next year DCA and SAPCONE will evaluate the overall success of farms, lessons learned, and best practices.