Seventy-three dollars a month. This modest amount of humanitarian aid from DanChurchAid enables more than 1400 drought-affected families in the Northern region of Kenya to get food and other necessities.
Multi-Purpose Cash Assistance (MPCA) has been identified as the preferred means of delivering life-saving assistance, given that they are direct and rapid, whilst allowing households to address their priority needs
Each family knows its own needs and cash assistance lets the family choose the best way to fulfil them, helping them not only survive but thrive.
With payments made primarily through mobile payment services, families can buy food, medicine, and groceries, and thus survive the drought.
---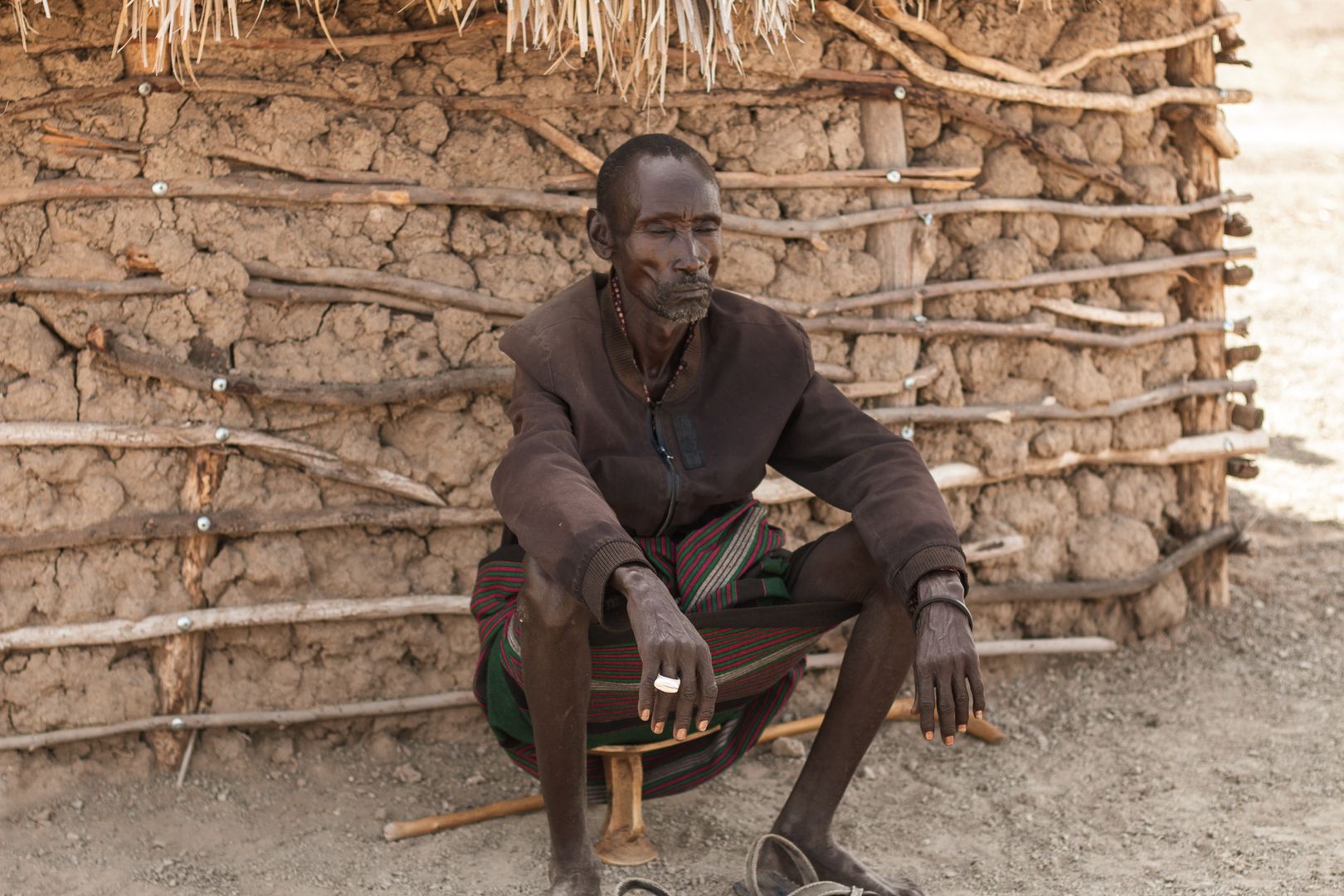 © Eunice Murathe
I lost all my goats. Now I have nothing.

Ekai Lucas
We are hoping the rain comes – Ekai Lucas
Before the drought, life was good for Ekai Lucas and his family. He had many livestock – goats. But then the rains failed, blistering sun persisted and pastures dried; killing animals and everything changed.
"I was a herder and had 20 goats which provided food and an income. The lack of water and pastures killed 15 of them. Then a few months ago, it rained for two days and the sudden change in weather killed the remaining five leaving me with no income and food," he says.
The cash assistance allowed me to buy what we needed most – food. We have food in the house to cater for a few weeks. It will take time before I recover. We are hoping our situation improves, and that the rains come because the drought is a big problem here.

Ekai Lucas
Lucas has a family of five children – a couple of foster children, and grandchildren, all who relied on goat milk and food bought from the proceeds of goat trading. When he lost his goats, he often had to send his children to bed without food.
Lucas received cash through his mobile phone for three months. It significantly improved the living conditions for him and his family, but they are not yet completely out of the woods.
Drought-affected families like Lucas', who lost all their livestock during the drought, will take some time to recover and get back on their feet again.
---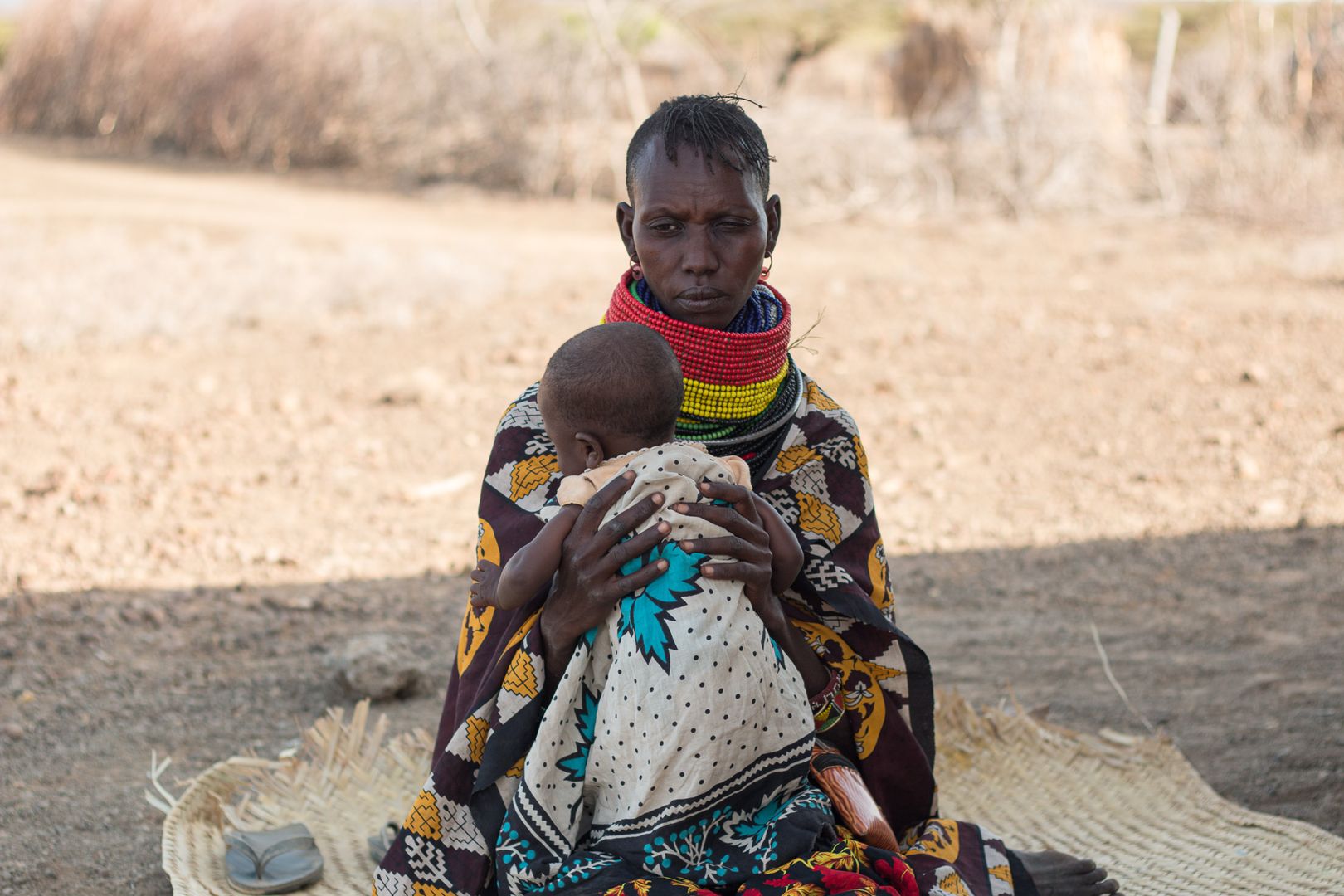 © Eunice Murathe
Life is so hard here – Akiru Naupala
Akiru Naupala, lives with her five children after her husband died a year ago.
She cradles her breastfeeding infant in her arms. She is distressed and her children are hungry. You can tell from their appearance.
Before the cash transfer, she was unable to feed her children and herself. They were malnourished.
"We lived with the little we got from our neighbours or anywhere that we used to cook and – sustain our lives. One of my children was admitted in hospital due to malnutrition. Life is so hard here," she says
When they lacked food, they'd sometimes eat wild fruits to survive.
Without the cash, my children and I could have died

Akiru Naupala
She tells us, "Most of the times we would sleep without food."
With the cash, the family bought food. Akiru expressed gratitude to God, SAPCONE and DCA for the life-saving assistance.
---
The cash assistance is a lifeline that enables families to meet their basic needs with dignity and flexibility.
Child malnutrition rates are soaring, and hunger will worsen with further poor rains predicted, a worrying concern for vulnerable households like Lucas' and Akiru's.