In the rural town of Kasuku, nestled in Nyandarua county, lies a remarkable shop named Hi-Tech Electronics and Furniture. Within its doors, mobile repair services thrive, serving as a beacon of hope for those seeking to revive their cherished devices. Here, 25-year-old Peter Wachira, an aspiring technician, embarks on a journey of skill and dedication.
Step inside this shop, and you'll be greeted by a meticulously arranged interior. On a workstation, tools of all sizes, from tiny screwdrivers to precise heat guns, are meticulously organized, ensuring a seamless workflow and swift access when needed. It is here that Peter hunches over the workbench, his attention captured by the intricate details of a mobile device spread before him.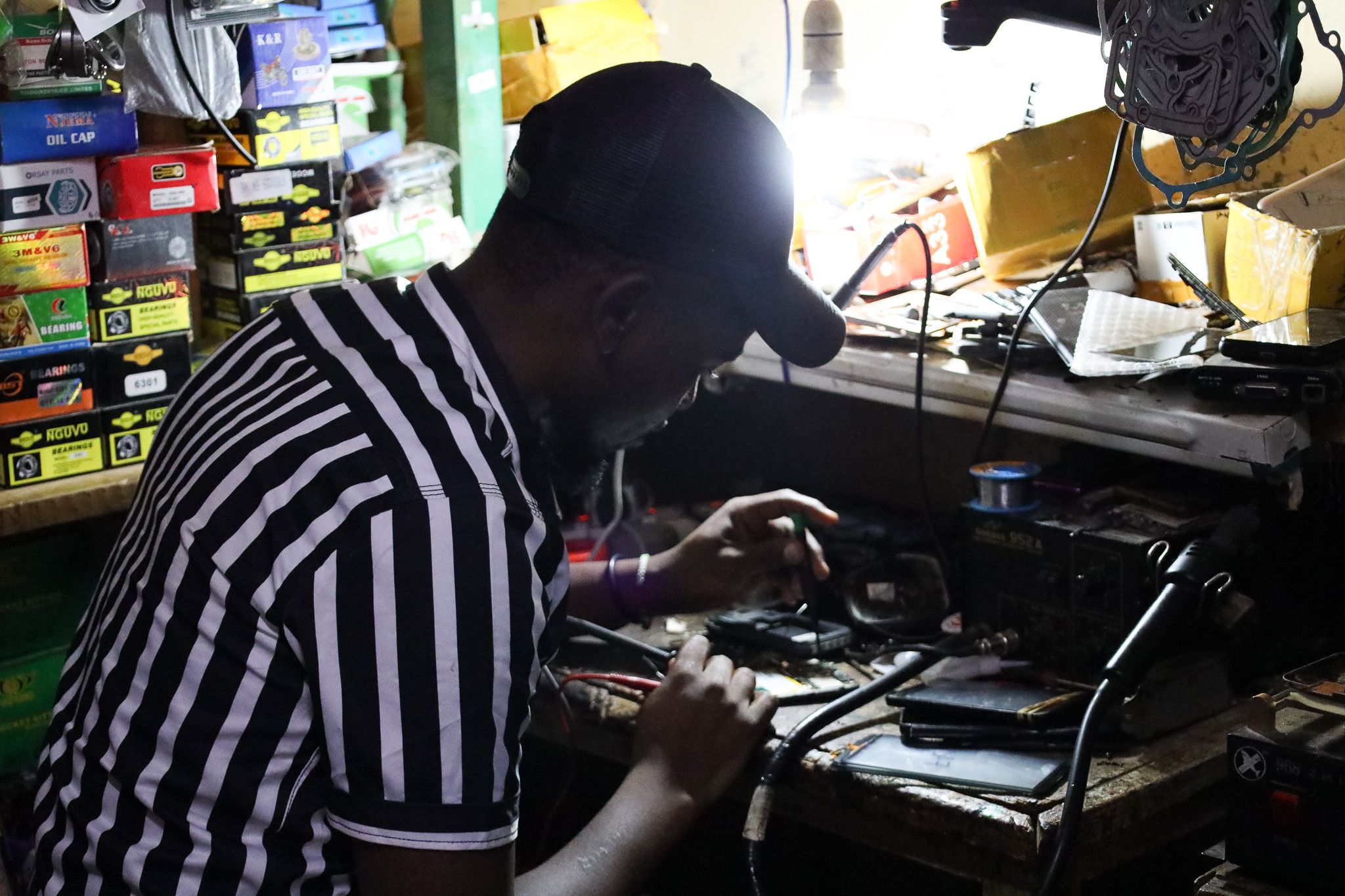 As Peter meticulously replaces the internal battery of a phone, he does so with a sense of confidence and accomplishment. A reassuring smile on his face to his teacher reveals his unwavering belief in his abilities as a proficient phone technician.
In a matter of minutes, the once faltering battery, is revitalized under Peter's skilful hands.
In 2017, after completing his high school education, Peter was employed as an electronics salesperson in Ol Kalou town. However, his true passion lay in the world of phone repairs—a field he longed to explore but lacked the necessary financial means to pursue a formal course.
Fortunately, in January 2023 he got an opportunity to apprentice through the Ajira Poa! Project. He says this marked the beginning of his transformative journey, filled with learning, growth, and the pursuit of his dreams.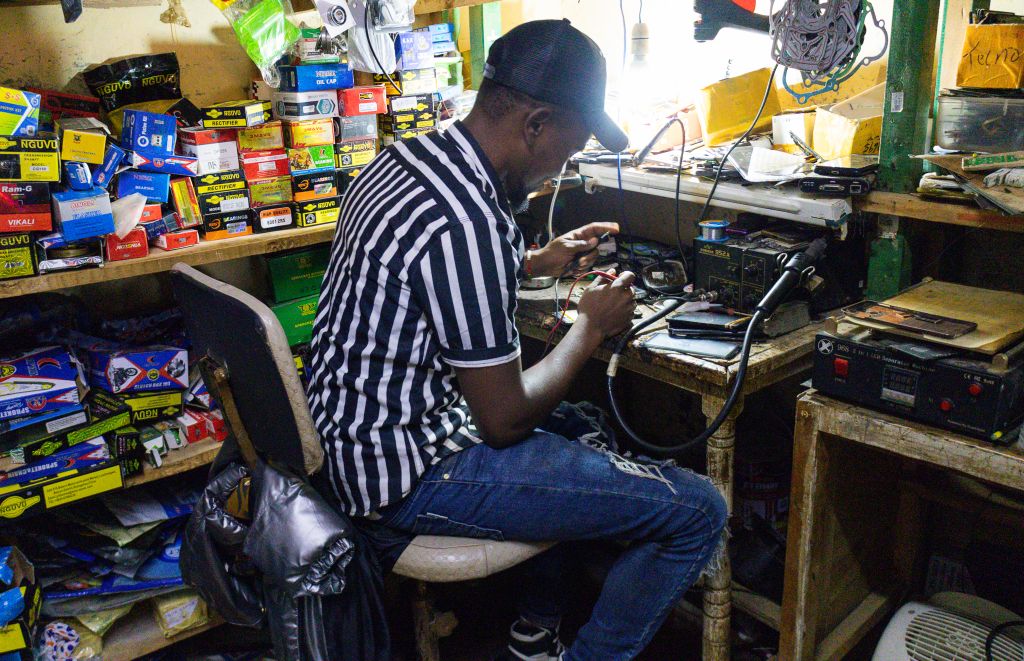 From diagnosing intricate hardware issues to decoding baffling software glitches, he is successfully learning how to resurrect devices that seem beyond salvation.
I've been doing well, gaining knowledge of both the hardware and software aspects of phone repair. The teacher is excellent at explaining concepts, and the practical experience has been invaluable to my learning. I feel confident in my abilities to repair mobile devices

Peter Wachira
Looking ahead, his sights are set on an ambitious goal—to establish his own mobile repair shop by the end of this year. Beyond that, he aspires to share his expertise and knowledge with others, particularly the younger generation, nurturing a new wave of aspiring phone technicians.
In recent years, he says, Kenya has experienced an extraordinary surge in mobile phone usage, transforming the way people communicate, access the internet, and accomplish daily tasks. As reliance on mobile technology continues to grow, so does the demand for reliable mobile repair services.
Peter is determined to bridge the gap.
My goal is to open my own mobile repair shop by the end of the year. With time and experience, I hope to also teach others, especially more youth. I'm grateful for the support provided by the program, as I didn't have the funds to pay for the course myself. However, the next step is to secure capital to start my business, and I hope to receive further assistance to make my dream a reality

Peter Wachira
Francis Ndungu, the shop's owner and host, emphasizes his unwavering commitment to playing his part, ensuring that everyone within his reach has the means to forge a livelihood and pursue their aspirations.
"It brings me great joy to witness young people being assisted. When they secure jobs, it creates a sense of security and reduces the number of idle individuals within the community and town, "he said.
---