Fresh Fruit Nexus
This is an innovative partnership between DanChurchAid, Lishe (the Ugandan exporter of organic fruits and vegetables), and Nordic Fruit, a Danish importer.
It has been introducing new crops and providing training in business management and organic farming to groups of smallholder farmers and refugees since 2019.
It has in addition set up savings and loan groups.
The aim is to create a large cooperative with 500 members to improve food security and living conditions for all families by creating growth and employment locally.
Nordic Fruit will import a percentage of the sweet potatoes and aims to sell them in the REMA 1000 chain of grocery shops in Denmark.
The project is supported by Danida's private sector programme DMDP (Danida Market Development Partnerships).
ONAI, UGANDA: "I had lost all hope three years ago."
Nobert Amatre, 27, is dressed in a pink shirt and smart trousers. He is enjoying the shade under one of his mother's many blossoming trees in a quiet corner of the village of Onai in northwest Uganda.
"I had just graduated from high school and wanted to pursue an agricultural education, but we had no money. None of my ventures met with success; for example, the harvest failed when I tried to grow peanuts. In the end, I assumed that I was there to help my younger siblings become successful."
Self-confidence and plans for education
Today, Nobert Amatre smiles at the thought of his younger self. He is now busy creating a name for himself and a financially secure future.
"I farm on two hectares of land and plan to expand to four or eight. I have six sheep and five goats, and I hope to be able to afford to continue my studies in 2023."
Simultaneously, he has gained self-confidence and enough money to enable two younger sisters continue their education despite unplanned pregnancies.
Traditionally, in that situation, you get married and move in with your husband. But they were too young, so I put my foot down and insisted that they stay here and get an education.

Nobert Amatre
Helping the youth
Today, Nobert Amatre's commitment goes beyond family ties.
"I used to be an introvert, but I just helped 11 women set up a savings and loan group. My next project is to approach all the young people who hang out, doing nothing, along the main road. I want to help them get started with something productive."
The partnership became a turning point
The turning point for Nobert Amatre was the Fresh Fruit Nexus project that helped him grow organic sweet potatoes.
Sweet potatoes
Sweet potatoes have been grown in Uganda for a long time. However, they are a paler variety without much sweetness. The local variety is less nutritious and has a lower market value than the orange-coloured ones originally from South America.
Ginger and turmeric are among the other new crops.
"Initially, locals did not like the taste of the new sweet potato varieties, but I personally made a big effort to market them and explain all their benefits. Now they are quite popular, also because they are organic." Nobert Amatre is a member of a savings and loan group and helps DanChurchAid as a facilitator in the local community.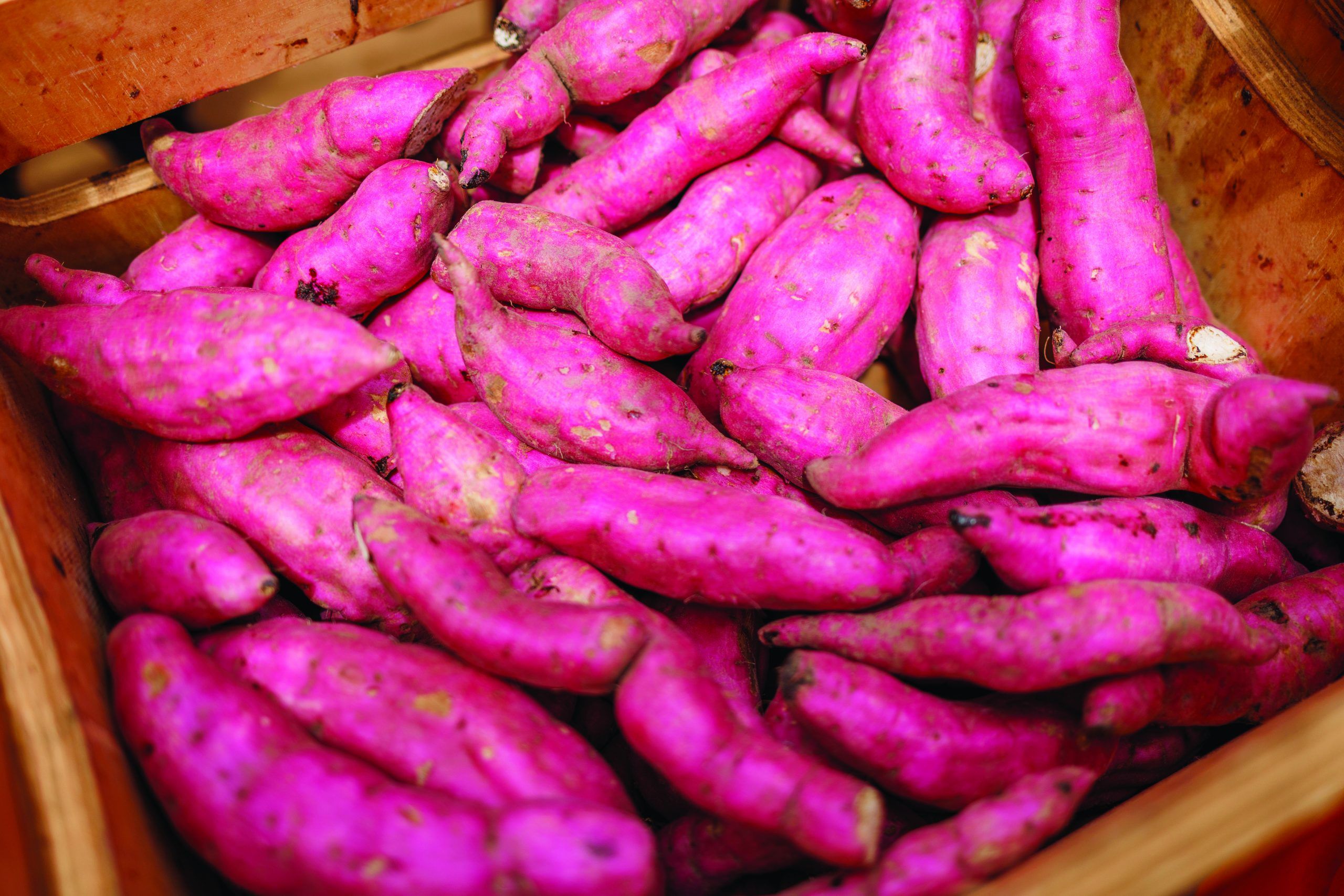 Must be able to meet demand
He welcomes the project's forward-looking perspective, but he has a concern: can we meet demand? That is a real challenge.
John Ariko from the JP Management Foundation, one of DanChurchAid's local partners, explains that the large companies are interested only in businesses of a certain size.
"The higher the volume, the lower the transaction costs for the buyers. That is why we are in the process of bringing the groups together into one big cooperative with over 500 members."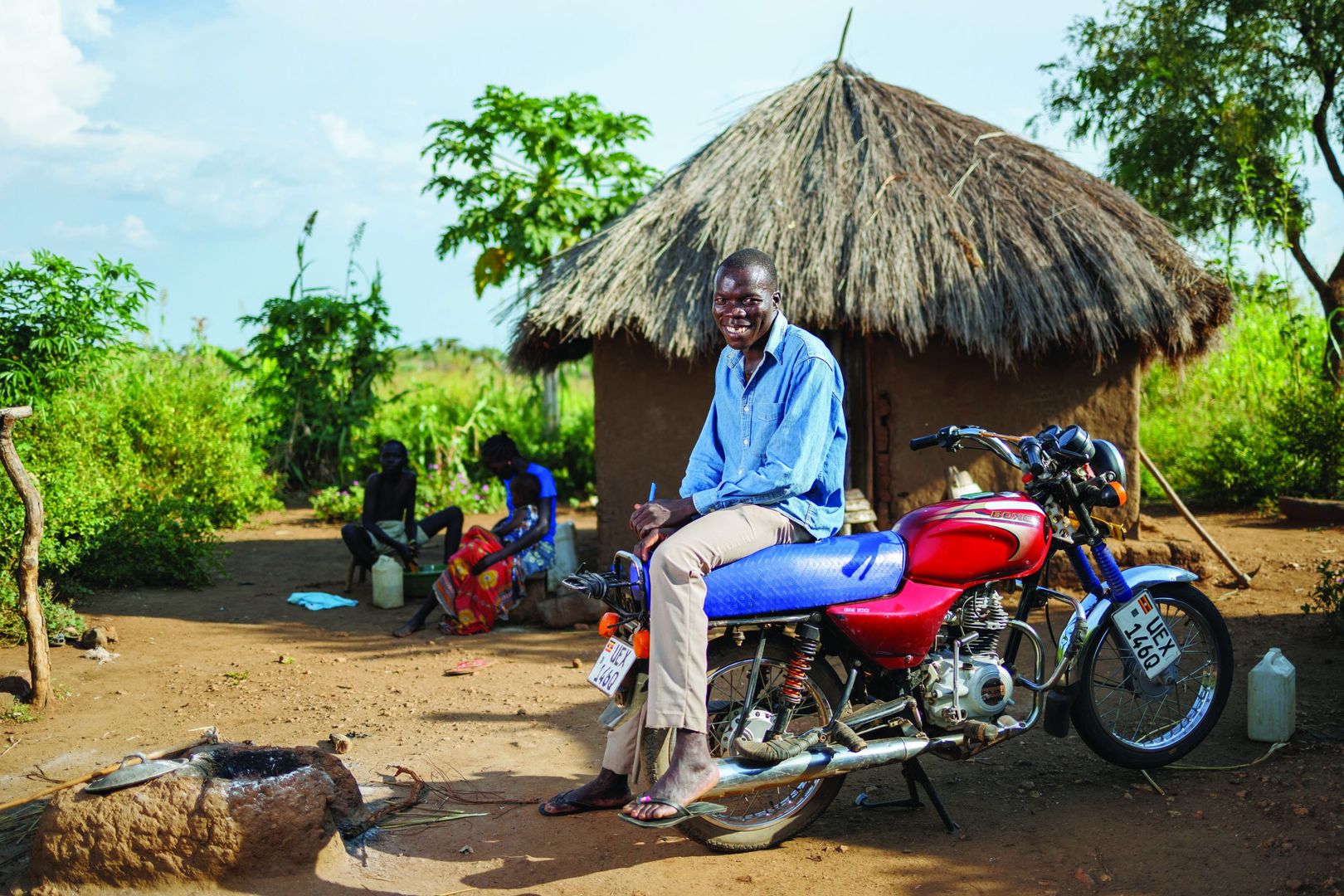 Hilali Amori fled from the armed fighting in South Sudan to northwestern Uganda in 2016 with his wife and children. Here they had to live in a tent and subsist on food aid.

But in 2019, the family was given the opportunity to rebuild its life. Together with a large group of other refugees, they became involved in the Fresh Fruit Nexus project. They rented three hectares of land from their Ugandan neighbours and started growing organic vegetables to generate an income. And Hilali built a thatched clay hut for his family.

"In the group, we learned how to save up money and buy assets. I invest my income in new opportunities to make more money." Hilali Amori has bought a cow, a goat, and a flock of chickens – and last year, he bought a motorcycle that he rents out. On the main street of the refugee settlement, he has opened a small shop where he sells spare parts for motorcycles.
© Jjumba Martin
Increasing volume
At the moment, he is meeting with all of the groups to explain how such a cooperative works.
The interest is overwhelming. And this makes Nobert Amatre very happy: "Our area is already known for sweet potatoes, so we want to continue production even after the project has finished. That is why we are pleased that DanChurchAid is helping us to establish a cooperative. We need a strong umbrella organisation because we have to produce much larger quantities to satisfy the demand of the large buyers."
DanChurchAid: 100 YEARS OF HOPE AND ACTION
2022 marks the 100th anniversary of DanChurchAid's work to save lives, build resilient communities, and fight extreme inequality worldwide.
DCA's anniversary is a story of 100 years of hope.