Water, crops, knowledge, markets, and technology are key to the ability of smallholder farmers in drought-stricken parts of Zimbabwe to tackle climate change, improve living conditions, and in the long term bring about positive changes in society. A burgeoning initiative and ongoing project named Sizimele is creating a framework for families to become self-sufficient.
A beautiful tomato crop has recently come in. In the field, there are countless rows of light green butternut squash that can be harvested and sold later when people are willing to pay good prices at the local market. A large mound of beans is ready to fill a subcontracting order from a commercial farm. And the wheat has just been harvested – however toward the end of the threshing process, the chaff had to be manually separated, with assistance from the wind, when the rented threshing machine broke down.
"Now, farming is a profitable business; finally, I can support my family and pay our bills." Mkhohlisi Mafu lists what he obtained with the profits from the harvest: "A cow, three goats, school money for my children."
Had to give up cultivating the land
The smile on the face of the 47-year-old, a father of four and soon a grandfather, indicates that he does not take this kind of profit for granted.
He was born and raised in the village of Jotsholo in southwestern Zimbabwe's bone-dry Matabeleland, situated on the edge of the Kalahari Desert.
His mother was a member of a local cooperative here, and she farmed a patch of land that was irrigated from a dam and an ingenious system of canals. She harvested just enough to ensure that school money was paid and nobody went to bed hungry.
Like many other young people from the country, Mkhohlisi Mafu moved to the city to find work. He became a carpenter in Bulawayo, Zimbabwe's second largest city, and started a family. He returned to the village when his mother became ill and soon passed away.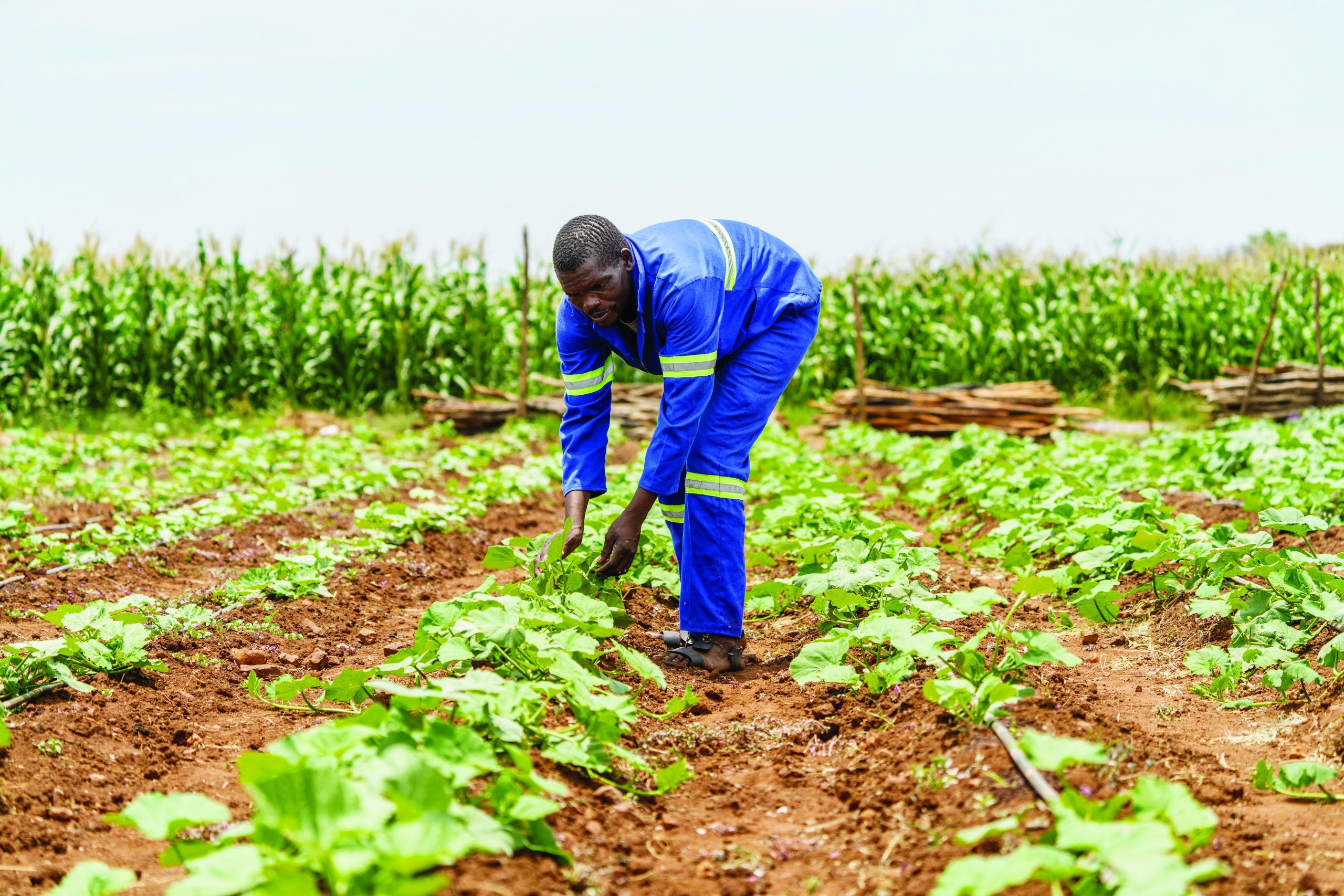 Difficult conditions at home
Mkhohlisi Mafu inherited his mother's membership in the cooperative. But much had changed while he was gone. Now, it was difficult just to earn enough for the membership fee.
"The first years were hard due to recurring and unpredictable droughts. For long periods, we had to give up cultivating the land completely."
Matabeleland has always been vulnerable to drought. However, periods of drought have become more frequent, harvests fail more often, and livestock perish when there is not enough rain. There was little help to be had in the surrounding community. Since the beginning of the millennium, Zimbabwe's economy has been ruined by failed land reforms, the decline of industry, and hyperinflation. Almost half of the population urgently needs humanitarian aid.
Widespread malnutrition and vitamin and mineral deficiencies only make the suffering worse
Initiative creates new opportunities
In an effort to provide new opportunities for the vulnerable smallholder farmers in Matabeleland, DanChurchAid and a consortium of local organisations launched a comprehensive initiative in 2017 under the name Sizimele, meaning "we are self-sufficient."
Water was the overriding initial priority. Two water wells gave Mkhohlisi Mafu and the 64 other members of the cooperative a new sense of security
Sizimele – we are self-sufficient
A project designed to build and improve resilient communities and provide a living for smallholder farmers by securing them basic income, food, and nutrition.
It has helped 150,000 people since 2017 in the three districts of Matobo, Insiza, and Lupane in Matabeleland.
Key functions are to (re)establish dams, drill for water, and build irrigation systems.
Sizimele offers courses in agroecology, entrepreneurship, and climate technology, introduces new drought tolerant crops with higher market and nutritional value, installs rain meters, weather stations, and other climate technology, develops and updates disaster relief plans, and builds toilets, feeding grounds, and slaughterhouses.
The project has so far cost USD 9.5 million, financed by the UN Development Programme (UNDP), EU, Danida, UK FCDO, Swedish International Development Cooperation Agency, and Canadian Foodgrains Bank.
Water is the first priority
Two out of the 24 hectares managed by the cooperative are equipped with an efficient drip irrigation system to ensure that the members can farm this part of the land year-round. Six other drip irrigation systems and 260 water wells have been set up in other villages, and three destroyed dams have been rebuilt.
Like most smallholder farmers, Mkhohlisi Mafu does not have any training in agriculture. He therefore farms the land using the same principles his mother did when he was a child. Maize and wheat were – and are – the most widely farmed crops by far, although both perform poorly in a dry climate.
At the same time, their market value as well as their nutritional value are low. The widespread malnutrition in Zimbabwe is partly due to the disproportionate amount of maize in daily meals.
Amaranth is better than wheat
Sizimele has introduced new crops with a higher market value and better nutritional value than maize and wheat: drought tolerant seeds such as chia and amaranth and crops such as tomatoes, cabbage, butternut squash, and turmeric.
More than 25,000 smallholder farmers participated in courses on crop rotation and using simple equipment to measure the level of nutrients in plants and moisture in the soil so that water or fertiliser is not used until it is necessary.
Farmers took part in training courses on entrepreneurship, obtained contracts with some of the country's largest food companies, and gained financial support through a financing company.
New app connects buyers and sellers
Most recently, Sizimele has developed an app that links smallholder farmers to buyers at markets and transport companies. Three weather stations have been set up to collect and transmit wind and weather data to smallholder farmers and the country's meteorological institute. This enables farmers to make better decisions for their farms and gives them access to local weather forecasts and early warning systems.
At the same time, DanChurchAid is working to gain influence with the government and advocate for legislation for the country. Agroecology has already been adopted as an independent pillar in the latest legislation on agriculture (agroecology focuses on the complex interaction between man and nature in food production), and the parliament will soon be debating a political proposal from the Sizimele consortium aimed at decentralising disaster preparedness.
It has been a long, difficult journey. In front of sceptical smallholder farmers and mistrustful authorities, Sizimele has had to explain and demonstrate the new methods, the modern technology, and the intentions of the project. However, the tangible results have gradually changed the minds of most doubters.
Our way of farming has changed radically. Before, we would just do the minimum, but now we have all this information and data from the weather station and the other equipment to guide us. We save a huge amount of resources

Mkhohlisi Mafu
No one will buy a cadaver
"Without cattle, you are nothing."
Variations of that statement are given if you ask people in Matabeleland what their livestock means to them.
Sizimele has contributed to significantly reducing cattle mortality, in some areas by 75% compared to previous years. Access to water has been crucial. The initiative has in addition taught cattle owners to grow and process their own feed and silage. In partnership with the private company Outback Safaris, DanChurchAid has set up a slaughterhouse in Jotsholo. This is a tremendous help for the cattle owners who had to transport their animals 171 km to the country's second largest city, Bulawayo, in order to have them slaughtered.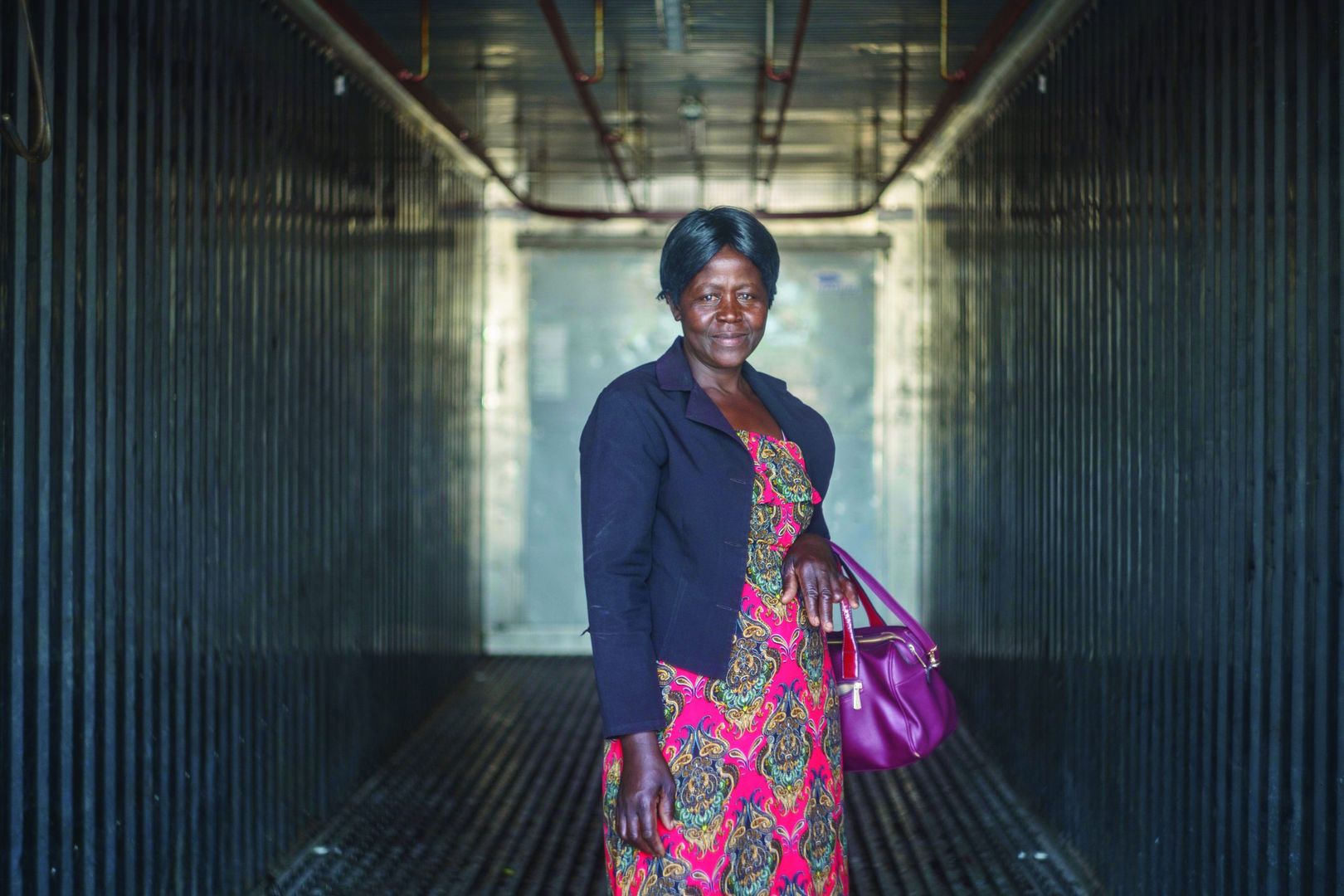 "It was a big headache for me because the transport alone cost USD 47per animal. When I finally got to Bulawayo, I felt compelled to accept any price they offered me – because I couldn't afford to take the animal back home." Maina Maphosa has 34 cows.

Sometimes, the slaughterhouse in Bulawayo did not have any openings available when Maina Maphosa showed up. Then she had to sit and wait with the animal in the truck, sometimes for several days.
"The worst thing was if the animal died from the heat while we waited. There I would be with a cadaver that no one would buy, and I had to pay to get rid of it."

Now she uses only the local slaughterhouse. She can transport her animals to it without any significant cost. For farms within a radius of 20 kilometres, there are even offers of free transportation.

"I save USD 47 on transport, and at the same time they pay a better price per kilo than in Bulawayo. If I am not satisfied, I can easily bring the animal back home.
© Zinyange Auntony
DanChurchAid: 100 YEARS OF HOPE AND ACTION
2022 marks the 100th anniversary of DanChurchAid's work to save lives, build resilient communities, and fight extreme inequality worldwide.
DCA's anniversary is a story of 100 years of hope.