On Thursday 21st of September 8.00-9.30 AM EDT, Denmark and Bangladesh will co-host an international dialogue at a side-event at the United Nations General Assembly (UNGA) discussing the ways forward for adaptation – you will be able to livestream it from this site.
If you want to share your perspectives, please contribute to the debate in the comments section on YouTube – follow this link
The growing adaptation finance gap
In mid-2023 the world temporarily touched the 1.5°C warming threshold twice, with floods, heatwaves and wildfires making the headlines daily. We have no options but to adapt to the new reality.
However, current adaptation finance needs in developing countries are likely five to ten times greater than international adaptation finance flows – an alarming gap which is expected to widen significantly in the future, unless financial systems are transformed.
Across the globe, people require measures to endure the dire consequences of climate change. It is essential that we increase investments in adaptation so that people can better prepare themselves for this new reality

Birgitte Qvist-Sørensen, General Secretary DanChurchAid
The adaptation finance gap can be defined as the difference between the estimated costs of meeting a given adaptation goal (the adaptation finance needs) and the amount of finance available. The UNEP Adaptation Gap Report 2022 estimated the adaptation finance needs in developing countries to be in the range of US$ 170-340 billion/year by 2030, rising to US$ 340-600 billion/year by 2050.
According to OECD estimates, international public funds for adaptation reached US$28.6 billion in 2020.
Consequently, adaptation finance needs are estimated to be five to ten times greater than current international adaptation finance flows – a gap that widens after 2030.
The event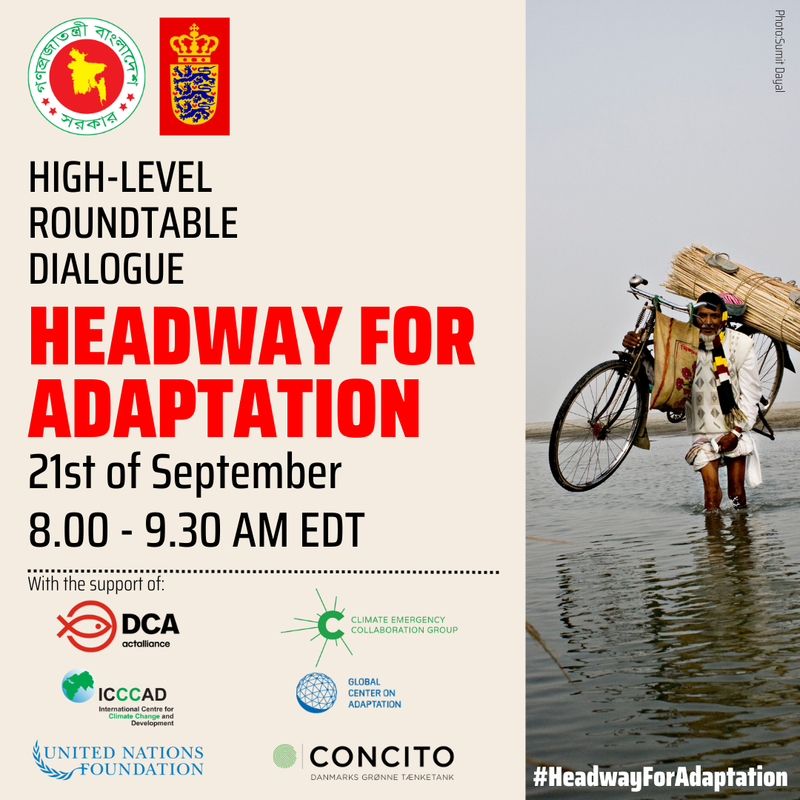 Sign up at bottom of the page – and reach out to Mattias Söderberg msd@dca.dk if you have questions regarding the event.
***
PRESS RELEASE: Denmark and Bangladesh: UNGA High level roundtable dialogue on adaptation
Attendees
His Excellency Adnan Amin – COP28 CEO 
 
Anders Tang Friborg – Under-Secretary for Foreign Policy for Denmark 
 
Asif Saleh – Executive Director of BRAC 
 
Birgitte Qvist-Sørensen – General Secretary at DCA 
 
Christina Chan – Senior Adaptation Advisor to the Presidential Special Envoy on Climate, USA 
 
Ede Jorge Ijjasz-Vasquez – Senior Advisor on Africa, Global Center on Adaptation  
 
Rt. Hon. Graham Stuart – Minister of State for Energy Security and Net Zero (UK) 
 
Hon. Henry Kokofu – Presidential Special Envoy for Climate Change & Head of EPA (Ghana) 
 
Jagan Chapagain – Secretary General of IFRC 
 
Her Excellency Khadeeja Naseem – Minister of State for Environment, Climate Change and Technology (Maldives) 
 
Hon. Dr. Kwaku Afriyie – Minister of Environment, Science, Technology, and Innovation (Ghana) 
 
Pascalle Grotenhuis – Director-General for International Cooperation (Netherlands) 
 
Hon. Saber Chowdhury – Special Envoy to the Prime Minister for Environment and Climate Change (Bangladesh) 
 
Hon. Toeolesulusulu Cedric Schuster – Minister of Natural Resources and Environment and Minister for Samoa Tourism Authority (Samoa) 
This year, UNEP will update the assessment of adaptation costs and needs in the forthcoming Adaptation Gap Report 2023, and the update is expected to reveal an even larger adaptation finance gap.
To handle this situation, parties, and non-state actors, must come together, and explore possibilities for how to close the adaptation finance gap. The event on the 21st of September is a chance to discuss possible headways to adaptation.
---