The project in short
At DanChurchAid, we have decided to take responsibility for our 100 years of work. Therefore, we have dug into our archives and calculated how much CO2 we have emitted over the last 100 years. It is estimated at 165,000 tonnes of CO2.
In collaboration with Ecotrust, we have calculated what can account for  the equivalent of the 165,000 tonnes of CO2. This has resulted in 280,000 trees, which we will plant in some of the most climate-exposed areas in Uganda.
Along with tree planting, we will also help to train farmers and food producers in new and long-term agricultural methods.
It is the world's richest countries that emit the most greenhouse gases, but it is the world's poorest who pay the biggest price. To help those who struggle the most, we must think innovatively.
"In DanChurchAid we are firsthand witnesses to how climate change displaces and causes food insecurity for millions of people worldwide. For us, the obvious thing is to set an example and to pioneer new standards of climate responsibility.
We take responsibility for our historical emissions and invest in climate adaptation and tree planting in developing countries. It benefits people who are already facing severe droughts, floods, and extreme weather due to climate change." says, The General Secretary of DanChurchAid, Birgitte Qvist-Sørensen.
A historic climate responsibility
DanChurchAid has calculated its historical climate footprint and takes responsibility for it by accounting for greenhouse gas emissions emitted over its 100 years of development operations; the first significant development organisation in the world to do so.
We have invested massively in climate adaptation and will plant 280,000 trees. This number of trees is the equivalent of the 165,000 tonnes of CO2 that DanChurchAid has emitted over its 100 years of relief and development work. It will serve as a component of our work in some of the most climate-exposed areas in Uganda.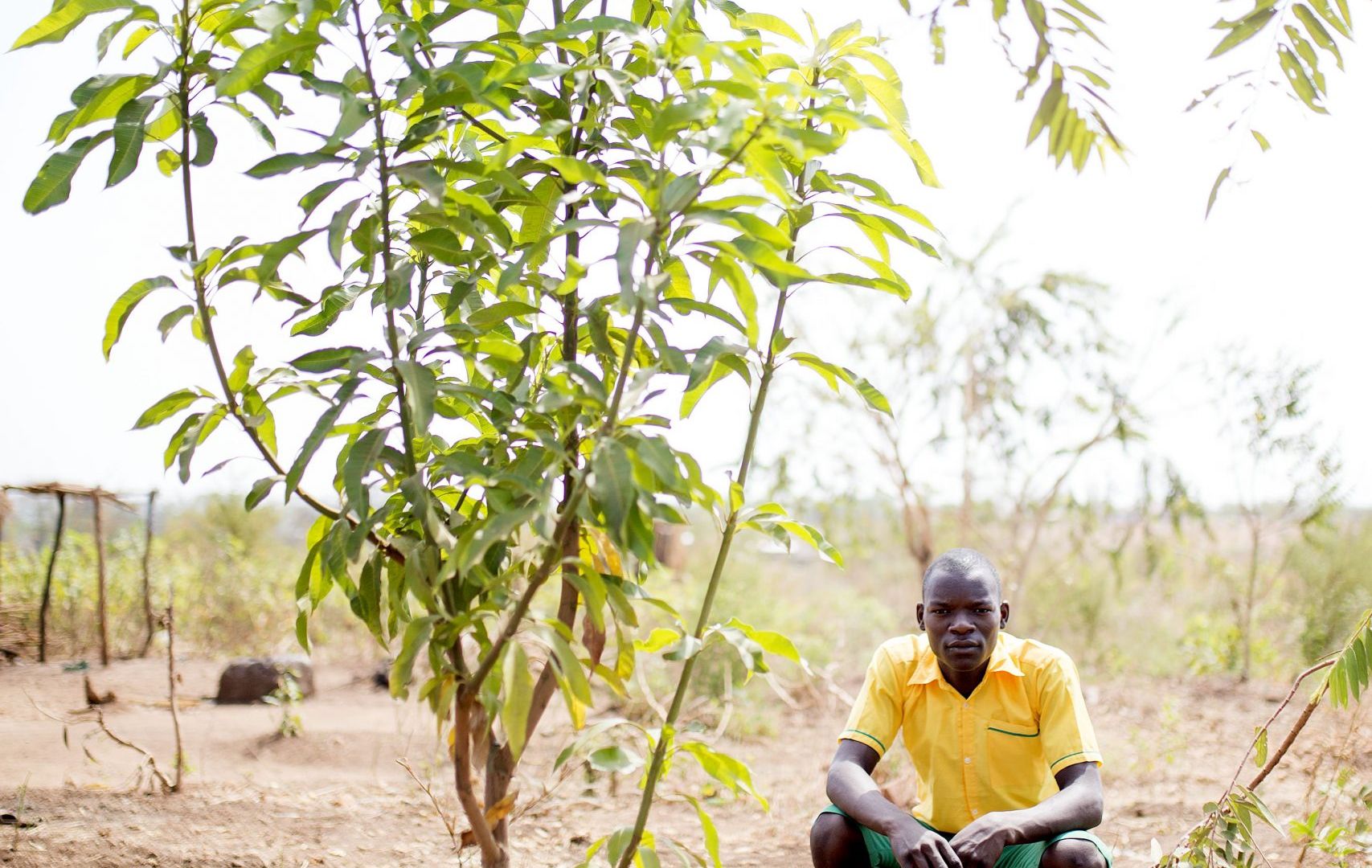 In Uganda, we work with 1,750 small farmers and their families to create long-term sustainable agriculture.

The families grow climate-resistant crops that can withstand drought and extreme rainfall and thus feed the local population – even when the weather is not as usual.

Trees have positive effects on agricultural production. Roots prevent landslides, bind water and provide shade for crops.

The more trees we plant, the more green corridors and hedgerows are created, which then help across local communities. The more square meters of forest, the easier life becomes for the people we want to help.
© Yilmaz Polat
---
How have we calculated 100 years of emissions?
"Of course, it is difficult to make up for the full climate misdeeds of the past. But we can estimate past emissions and do as much as we can, by investing in climate adaptation and tree planting for the benefit of people in developing countries. They pay the highest price for climate change in which they have the smallest stake," says Birgitte Qvist-Sørensen.
DanChurchAid has, through its 100 years as a development organization, emitted around 165.000 tons of CO2 into the atmosphere through its coordination of airlifts, clearing of landmines, supporting of partners and  their efforts to build resilience, as well as through local development, such as running secondhand shops etc.
"With this historic initiative we acknowledge our part of climate responsibility. We hope to inspire others around the world to aim for the same high standards. We present the initiative at the climate summit, COP27, in Egypt and urge the developed countries to live up to their historical responsibility and raise climate finance to the developing countries."
 "We are not only facing a climate crisis, we are facing an unfair crisis. Those with historical responsibility for global warming, should turn their past into action."
---
---
---
The fight against climate change is in overtime
Climate advocate Sofie Junge Pedersen tells about DanChurcAid's historical climate responsibility.
Turning the past into action
Get to know the project in just 7 minutes.
Mattias Söderberg, Climate Chief Advisor, DCA, will walk you through our thoughts behind the project, how we have calculated our emission and how we are turning the past into action.
---
FAQ about the project
---
Any questions?
Do not hesitate to contact us!
You can also read the press release here.
---
Our collaboration partners